List of Services Planned Parenthood Offers Besides Abortion
Crucial Services Planned Parenthood Provides Besides Abortion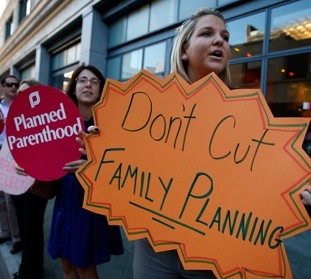 Planned Parenthood receives over $300 million a year in government funding. None of that can be used on abortion services, but there's a bill in Congress right now that would deny government funding to any organization that provides abortion. If the bill passes, it could threaten Planned Parenthood's existence.
As Double X points out, eight in 10 pro-life Americans support a woman's right to access contraception, for example, and if the bill passes, there would be no organization to provide the level of noncontroversial reproductive health care now easily accessible to millions of Americans through Planned Parenthood. In fact, in 2007, abortion represented only three percent of Planned Parenthood's services. So what else would American women (and men) lose if Congress defunded it?
Planned Parenthood's current battle with conservative lawmakers started when anti-abortion activists posed as pimps and caught Planned Parenthood workers on film giving advice about abortions for underage prostitutes. Some of the workers followed the rules, while those who didn't were fired, and the "sting" brings up the same arguments made in a typical abortion debate. But since Planned Parenthood already cannot use government funding for abortion, it's disingenuous to use that incident to defund the other noncontroversial women's health services it provides.