Little Known Facts About Michelle Obama From Brother's Book A Game of Character
5 Things You Might Not Know About the First Lady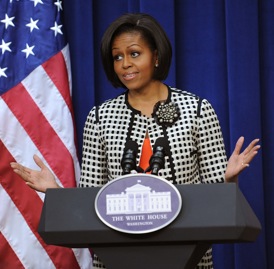 Michelle Obama's brother Craig has a new book coming out April 20 called A Game of Character. In it the first lady's only sibling discusses his basketball coaching career (he currently coaches at Oregon State). But the book also promises a few gems about Michelle. Like that her parents thought she would eat Barack Obama alive when they first met him, which was a shame since he was, according to her father, "not a bad-looking guy."
Here are a few more inside items about the woman formerly known as Michelle Robinson:
She learned to box as a kid.
Her brother calls her "Miche."
Her interest in health goes way back: she and her brother attempted to destroy every last one of their parents' cigarettes. I wonder if Barack hides his.
Her father had multiple sclerosis (MS).
She initially resisted Barack's plan to run for President so soon after he was elected to Senate in 2004.
Would you pick up this book, or are you cool with these CliffsNotes?