Lorene Scafaria Interview
Lorene Scafaria on Seeking a Friend For the End of the World and How Ex Adam Brody Weighed In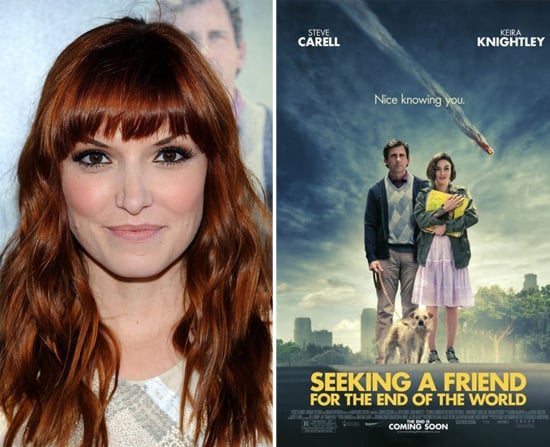 Seeking a Friend For the End of the World hits theaters Friday, and it will mark the beginning of Lorene Scafaria's directorial career. The Nick and Norah's Infinite Playlist screenwriter decided to take on a more finite subject matter — namely an impending apocalypse and inevitable mortality — in Seeking a Friend, which she both wrote and directed, a first for her. It stars Steve Carell (Dodge) and Keira Knightley (Penny) as neighbors who end up spending the end days together searching for Dodge's high school sweetheart. I sat down with the 34-year-old filmmaker to talk about women in Hollywood, how she would react to an apocalypse, and how her then-boyfriend Adam Brody, who plays Keira Knightley's boyfriend in the movie, helped her with the script. Read my interview with Lorene now.
TrèsSugar: Do you think Hollywood could use more female screenwriters? And now as a director, do you think women bring a different perspective to that role?
Lorene Scafaria: I like to think for this story itself being a woman, who maybe has a ticking clock in her head in a different way than a man, helps. But, I'm really not sure why there are so few female directors especially. At least in my world, there are a lot of female screenwriters, and they do bring a sensitivity to their work and their characters. I think it's shifting. Maybe someday it won't even be a question.
TS: Did any female friends or screenwriters in your life read this script or give you input or feedback on it?
LS: They did, especially Dana Fox, who's one of my best friends. She helped a lot. It's funny actually. Adam Brody is the person who helped me the most with this script, from beginning to end. So I did have that male perspective in there, which was nice.
TS: Right. Considering it has a male lead.
LS: Yeah, he was actually the person who helped the most from the script to the soundtrack actually.
TS: How did he feel about his character?
LS: I think he liked his character. That was fun because I love the idea that he's known most for playing the dream boyfriend. I thought well, this would be fun to put you as the worst possible boyfriend ever, and so we had a lot of fun crafting that and forcing him to grow his beard for three months. The terrible, terrible beard — we called it a smeared. That was a lot of fun to see him in that part.
TS: The characters have different reactions to the ticking clock. Some are in denial, some drink a lot. What do you think your reaction would be?
Keep reading to find out what Lorene has to say.
LS: I feel like a Penny character in that I feel like I've been living my life to the fullest, but in that same way, I have some regrets. You spread yourself thin, and I definitely missed some holidays with my family as a result of hanging out with ex-boyfriends. But I'd like to think I'm leading a fairly honest life, so I think I'd be doing what I'm doing.
TS: There's a line in there that says the only reason why people get married is because they're afraid of dying alone. Do you agree with that?
LS: No, no. I don't agree with that. I do believe in marriage and the romance behind it, but not so much for me. I think the stuff in there that resonates with me is that idea that for Penny, her parents were so in love, and they set the bar really high; and it's made her never want to settle for anything less than that. And so that's true for me. I feel like because I saw people who were so in love, I wouldn't want to walk down that aisle unless I was madly, madly in love.
TS: The message that I took away from it, is that death is inevitable, but if you find someone that you love, it makes it a little bit better.
LS: Death is inevitable. I think it's a part of our lives so that we appreciate life. There's a reason we're not all vampires. Sometimes it's sudden and then sometimes, you're 95. To me, love is the happy ending. It was that way with my (late) father. My mother and I were there, and we love him to pieces. So that does end up being what's most important and what makes it OK — if you're looking into the eyes of someone who's crazy about you then yeah, it's not so bad.
TS: Do you think that there's an upside to knowing when you die?
LS: I do think there is a benefit to it. I wrote a couple of drafts, and then my father got sick and passed away over a six-month period of time. I took all six months off of work and just hung out with him, which was great. He didn't want to know how much time he had left, but my mother and I did and so we were calculating and planning accordingly. And as much as it was really hard to watch, I feel so lucky that I got that time with him to talk and have conversations. We didn't have that kind of relationship that required so much closure or anything like that, but it was that kind of thing where you just benefit so much from knowing what's coming and get to appreciate everything.
TS: So you saw the upside to a ticking clock?
LS: As inevitable as death is, I think it's there for us to appreciate life. And so I can't say I'd be dying to know the exact date, but at the same time, I feel so lucky to know what that experience is. I came back to the script with a new perspective of time and obviously what's valuable. It wasn't so much that it altered the story, but it definitely infused a lot of lines in the film and a lot of personal things got in there.