Macy's Mother Day Card Donation Campaign
5 Facts You Should Know About Relationship Violence and 1 Way to Help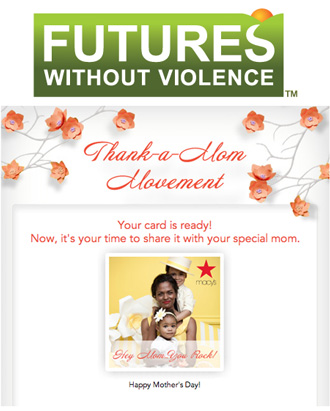 This Sunday, Americans will celebrate some of the most important women in their lives, their mothers. Unfortunately for millions of women and children facing relationship or family violence, the world is not such a loving place. This Mother's Day, when you send your mom an ecard via Macy's Facebook page, the store will also donate $5 to the charity Futures Without Violence, an organization working for 30 years to create lives filled with nonviolent, respectful relationships in America and around the world.
Here are five facts Futures Without Violence thinks we should all know about this serious problem.
In the US, nearly one in four women will experience domestic violence in her lifetime.
On average, more than three women a day are murdered by their husbands or boyfriends in the US.
Violence in a relationship can also take the form of reproductive coercion. Approximately one in five young women experiences pregnancy coercion and one in seven experiences active interference with contraception (birth control sabotage).
Women of all ages are at risk for domestic and sexual violence, and those age 20 to 24 are at the greatest risk of experiencing nonfatal intimate partner violence.
One in three teenage girls in the US is a victim of physical, emotional, or verbal abuse from a dating partner.
For a step-by-step guide to creating your Mother's Day card to help support Futures Without Violence, keep reading.
Step 1: To begin, click here.
Step 2: Click "Like" on the Macy's page.
Step 3: Click "Create your card."
Step 4: Choose Futures Without Violence.
Step 5: Click "Select a card design."
Step 6: Click "Allow."
Step 7: Click "Select a card design" again.
Step 8: Scroll down and click "Continue."
Step 9: Choose a friend on Facebook or email the card by clicking on the "enter . . ." field.
Step 10: Submit.