Making a Pros and Cons List in a Relationship
Puzzling Out a Relationship's Pros and Cons
I opened my in-flight magazine on a recent trip to find the crossword puzzle and cartoon page covered entirely by a list, with "Susan" on one side and "Les" on the other. Someone had obviously been weighing the pros and cons of two women — very thoroughly.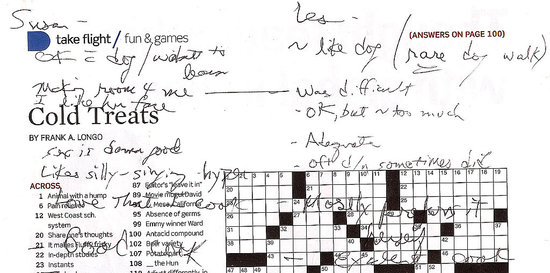 Under Susan are such pros as "sex is damn good" and "good cook," while the Les side says the sex was just "adequate" but that she's an "excellent cook." However, Les's extensive cons — including "not ecological" and "tech disaster" — suggest that Susan wins. Too bad the answers to this puzzle aren't on page 100.
I've weighed the pros and cons of a relationship before, but I don't think I've gone so far as to make a list — and it's certainly never been so urgent that I had to use the pages of an in-flight magazine! I've reproduced the list below for your voyeuristic pleasure, so check it out — it's quite entertaining. Meanwhile, tell me, have you ever made a pro vs. con list when choosing between two people or trying to decide whether to stay with someone?