Male Model Andrej Pejic Push Up Bra Ad
Androgynous Male Model Andrej Pejic Works a Push-Up Bra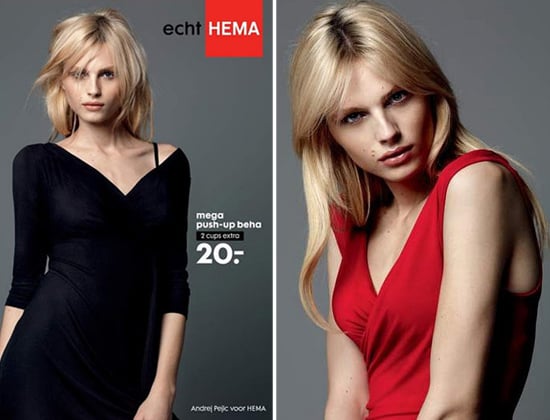 "Did I ever think I had enough booty to advertise a push-up bra? No," androgynous male model Andrej Pejic tweeted earlier today. The Australian gender bender recently signed a lingerie ad contract with Dutch retailer Hema and shot these ads for the chain's push-up bra.
Ignoring possible enhancements via photoshop or bra stuffing, the ad's approach has some logic to it. If the push-up bra can give a man some realistic curves, why not you? And perhaps casting an androgynous man in a commercial ad, and not just an edgy editorial, also represents a progressive step against rigid gender norms.
Still, not everyone thinks these ads send a positive message. Critics in the Netherlands reportedly worry they could negatively influence a young woman's body image by holding up a literally boyish figure (minus the fake cleavage) as the ideal. Considering both arguments, do you think the ad is awesome or problematic?