Marketers Ready to Capitalize on Your Menstrual Cycle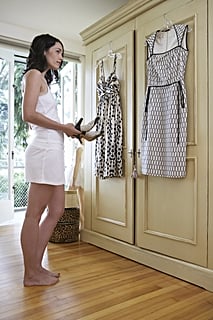 A new study found that women are more likely to dress to impress and buy sexier clothes while ovulating.
The study discovered that ovulating women were more likely to buy sexier products when attractive women were nearby (they're subconscious threats) while nonovulating women were not subject to the same effect. The conclusion? The menstrual cycle affects women's buying habits. This would be another useless finding if the research wasn't done by the University of Minnesota's Carlson School of Management, and businesses weren't poised to put it to use.
"For about five to six days every month, normally ovulating women — constituting over a billion consumers — may be especially likely to purchase products and services that enhance physical appearance," said Kristina Durante, a postdoctoral fellow involved in the study. "Such products include not only clothing, shoes, and fashion accessories, but also cosmetics, health supplements, fitness products, medical procedures, and more.
Is it time to think twice before tracking our periods online?