Meeting the Parents Dos and Don'ts
The Dos and Don'ts of Meeting the Parents
Whether it's a casual family gathering or a high-pressure holiday, meeting your sig-o's parents is never easy. But the pressure really mounts when those parents will soon be your in-laws.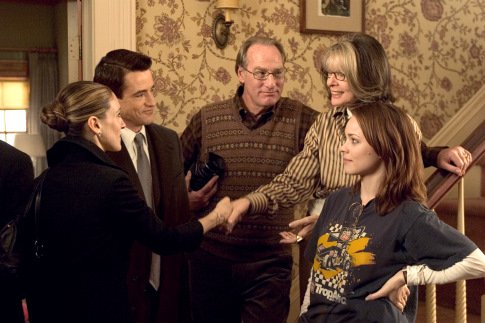 No matter how cool they are, your first time meeting your boyfriend's or girlfriend's parents will give you the jitters, and that's perfectly OK. It's a pretty big deal, so just accept that and move on. Meanwhile, follow these 10 simple rules, and you'll be off to a good start.
Don't make it all about you. You want to make a good first impression, but spouting off endless facts about yourself isn't necessarily the way to go. Think of yourself as a guest at their family gathering, rather than the center of attention.
Do ask questions. This serves two purposes: it makes people feel special, and it lets you get to know what they're all about. Chances are, they'll have some cute stories to tell about your fiancè and the fam.
Four more dos and don'ts after the jump.
Don't wear anything racy. Even if your sig-o's parents aren't particularly conservative, wearing something over-the-top just begs the question: why? It's unnecessary and distracting.
Do wear something that's you. Chose an outfit that expresses your personal style. After all, these people will probably try to buy you gifts someday, maybe even accessories. Best not to let them get the wrong idea.
Don't try to cram everything into the first meeting. You'll have plenty of time to get to know each other, so don't feel like you have to cover every topic. Just let the conversation go where it may.
Do give it time. Everyone will be nervous, so don't be upset if the first meeting is slightly awkward. It takes time to feel familiar, and the next time you hang out with them will be that much easier.
Don't give your mate a hard time. Even if you and your boyfriend share a sense of humor that involves gentle ribbing and teasing, keep it under wraps this first meeting. Humor also takes time to get used to, and you don't want to come off as a nag.
Do mention what you like about him. You and your future in-laws have one thing in common right off the bat: you both love their son or daughter. Parents never tire of hearing good things about their kids, no matter how grownup they get.
Don't be all over each other. Sure, sure, you're totally in love and all that, we get it. But your lust shouldn't be palpable to his parents.
Do express affection. While you should avoid the PDA, you also don't want to come off as cold. A few little gestures, like holding hands or letting him hold the door, will come off as sweet and lighten the mood. Ah, young love.
Share you tips for meeting the parents — or your horror stories — in the comments.
If you are planning a wedding, happily wed, or looking for Mr. Right, start sharing your big day with our community. Just check the wedding content box on your post.