Memorial Day Party and Date Ideas
What to Do For Memorial Day If You're . . .
Take a deep breath; what's that smell? Why, it smells like Summer is around the corner! OK, so here in San Francisco it was raining and cold this week, but let's just pretend that we're heading into bikini season. Monday is Memorial Day, after all, and the three-day weekend ushers in the sunny season with BBQs, beach trips, and friend-filled festivities. If you don't have plans yet, here are some ideas for enjoying your day off whether you're single, paired up, or just looking to spend time with your besties.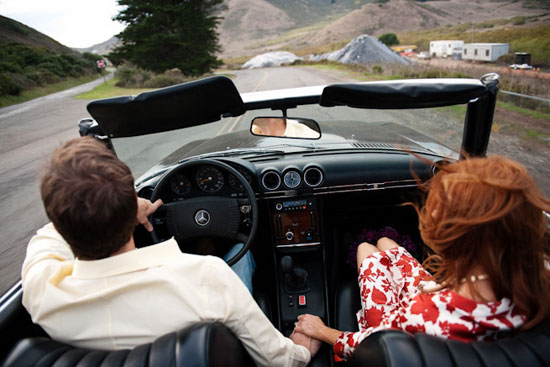 In a Relationship: Get out of a date night rut this weekend and go on a mini road trip. Memorial Day is about remembering, so take a trip down memory lane, literally. You could go to somewhere that's significant to the two of you, be it a bed and breakfast, a favorite antique shop, or a hole-in-the-wall diner. Even if you just make it a day trip or stay one night somewhere, it's a great way to recharge your batteries.
Single and Looking: Plan a backyard, park, or rooftop BBQ with your friends and have everyone bring an eligible bachelor they aren't interested in to mix and mingle with. The pressure will be off since there's a big group of people and plenty of beer to loosen up the crowd. And since your friends brought fellas they know, there's less chance the guys are crazy stalkers.
Hanging With the Girls: Swap cosmos for beer and miniskirts for caps for a girls' day at the ballpark. Grab your gals and head to a baseball game, hotdogs and garlic fries required. And it's OK if you're not the sportiest group of ladies; it's really about enjoying the outdoors, catching up with friends, and ogling the players. Make a day of it by tailgating before the game, and maybe you'll even meet some cute b-ball fans to meet up with afterward.
Married and Need a Date Night: If you want to take advantage of the weather but still dress up for a special date night, find a restaurant that has an outdoor patio for enjoying the warm evening. Bonus if the eatery has a romantic ambiance complete with candlelit tables and twinkle lights. Even better if it sits alongside a creek or the ocean! Savor a late-night meal and a bottle of wine under the stars on Sunday night, so you can sleep in and relax on Monday with your honey.
Having Out-of-Town Friends Over: If you're anything like me, you keep meaning to do all the tourist-y things your city has to offer but just never make it happen. Having friends visit from out of town is the best motivation for crossing off your tourist to-dos. Research ahead of time some of the best attractions and little-known factoids about your 'hood. Then spend the weekend acting as a tour guide for your buddies while you check out historical monuments, museums, restaurants featured in movies, and other local hot spots.
What are you doing this holiday weekend?
Photo by Flory Photo via Forget Me Knot Weddings