Men Don't Notice High Heels
Another Reason Not to Wear Heels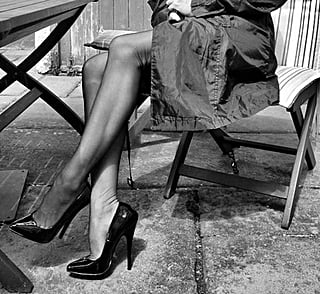 From the researchers who brought us dancing avatars to illustrate what does and doesn't make men attractive dancers, there's now advice for women hoping to up their allure by wearing high heels: don't bother.
Part of a wider study trying to pinpoint how movement and attraction are related, researchers at Northumbria University studied the reactions of men to women walking in heels and flats. Men were asked to watch women, between 18 and 35, walk without seeing their shoes; however, they weren't able to distinguish between a woman walking in sensible flats and height-altering heels.
The Daily Mail doesn't say what questions the men were asked, so I'm suspicious. There's a big difference between "Is she wearing flats or heels?" and "Which women's walk is sexier?" I wouldn't be surprised if a man couldn't determine what shoes a woman wore, but don't you think he'd find something more attractive about a woman in heels? Don't answer that! I'd rather be comfortable and just believe this.


Source: Flickr User Markusram