Men Lie More Than Women
Why Do You Lie?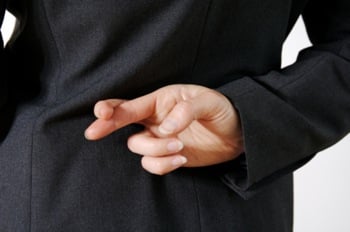 Survey says: men lie more than women. The fact that men have an easier time doing so might explain this latest statistical finding from the British science museum.
Looking at the top lies each gender tells, it appears everyone uses dishonesty to avoid conflict. Men in the survey said they lie about their level of intoxication, their cell phone signal (can you hear me now?), and the size of their girlfriend's "bum," while "nothing's wrong, I'm fine" is the lie women most often tell.
The survey also found that women feel more guilty about lying, so if you're going to lie, I'd bet you'll try to justify it. Such justification can range from wanting to avoid hurting someone's feelings, getting out of an uncomfortable situation, gaining something you want, or avoiding a wide variety of other negative consequences. When you lie, what's your reason?