Michele Bachmann Debates Rick Perry About HPV Vaccine
Michele Bachmann Goes After Rick Perry For HPV Vaccine, Calls Plan B the "Morning-After Abortion Pill"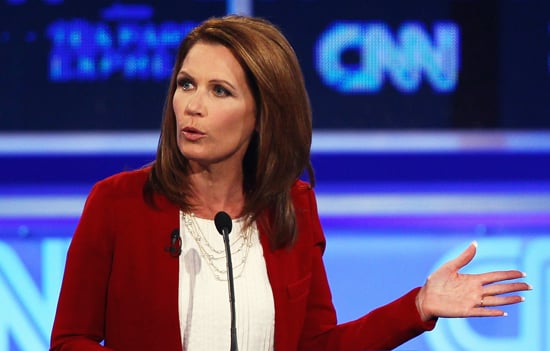 In 2007, Texas Gov. Rick Perry signed an executive order mandating HPV vaccine shots for girls in the state unless parents opted out. At the time he said, "providing the HPV vaccine doesn't promote sexual promiscuity any more than the Hepatitis B vaccine promotes drug use." It was a position that stands out amongst Perry's other socially conservative stances on women's health issues, including supporting laws that reduce abortion access, and Perry now says it was a mistake to mandate the vaccine through an executive order. Perry wishes he had passed it through the state legislature, which ultimately overturned his order. Regardless of his attempts to walk back his relatively progressive move, now Republican presidential candidate Perry is taking heat for it from his socially conservative opponents, especially Congresswoman Michele Bachmann.
Despite being a mother of three biological daughters (and other foster children) and a woman herself, Bachmann is not persuaded by the HPV vaccine's promise of preventing cervical cancer. Last night at the Tea Party-sponsored presidential debate, she called it a "government injection." Bachmann said:
"To have innocent little 12-year-old girls be forced to have a government injection through an executive order is just flat out wrong. That should never be done. That's a violation of liberty interests. Little girls who have a negative reaction to this potentially dangerous drug don't get a mulligan. They don't get a do-over. The parents don't get a do-over."
Perry was at pains to point out that parents had a choice whether or not to vaccinate their daughters in the first place. Bachmann also compared this "government injection" to Obama's supposed mandate of the "morning-after abortion pill" — something that does not exist. Bachmann spread her misinformation about emergency contraception, which is not the abortion pill (RU-486):
"President Obama in a stunning, shocking level of power now just recently told all private insurance companies you must offer the morning-after abortion pill because I said so and it must be free of charge. That same level coming through executive orders and through government dictates is wrong."
Here's the truth: under health care reform, new health insurance plans will cover the morning-after pill, which prevents a pregnancy before it happens and does not induce abortion. Watch Perry and Bachmann debate the vaccine and Bachmann call emergency contraception the "morning-after abortion pill" below.