Michelle Obama in Harper's Bazaar
Talented Americans Are Music to Michelle Obama's Ears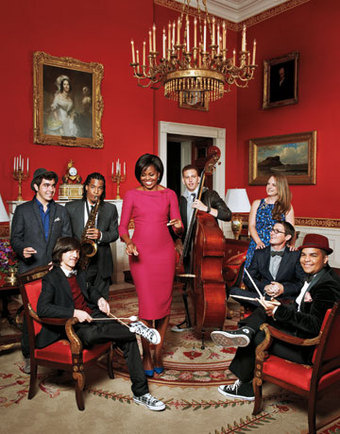 When it comes to the job of first lady, the opportunity to elevate American designers, artists, and musicians seems more pleasurable than getting caught up in stressful politics.
Michelle Obama says she gives attention to these issues not for the fun of it, but because it's important to our nation's success. She tells Harper's Bazaar that supporting talented young Americans is a good investment for the country, and that arts and music can help build international bridges. Check out some highlights from the interview.


On jamming with France's first lady: "Carla Bruni-Sarkozy is a musician. We gave her a Gibson guitar. When I came to visit, she pulled it out and played the most beautiful song. We were sitting there with family, and we started singing."
On her family's art traditions: "My father was an artist. He sculpted and painted and spent time at the Art Institute of Chicago."
On how the White House is a center for performers: "This morning, I was thinking, Is that the radio? Then I thought, Oh, that's right, we have the music series going on downstairs."
On the power of the arts: "That's the beauty of arts and culture, music and dance. It's a universal voice. When I travel to other countries, usually the first thing the spouses do is introduce you to their cultures through music and dance."