Michelle Obama Interview About Women
Michelle Obama: "There Is So Much on the Line For Us as Women"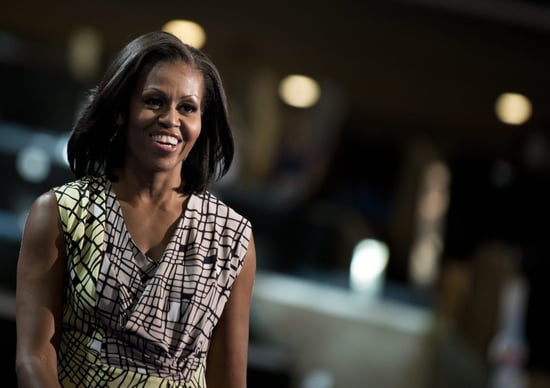 Ahead of her big speech tonight at the Democratic National Convention, we had a chance to speak with Michelle Obama about what this election means for women. As a woman and mother, whose eldest daughter, Malia, is starting high school today, Michelle is proud of what her husband has accomplished in the past four years. And she said come November, "there is so much on the line for us as women." Here are the highlights from our call with the first lady:
On Her Convention Speech
"As you know, tonight's a big night for me and for the Democratic party as I speak on the first night of the convention here in Charlotte," Michelle Obama told us on Tuesday afternoon. "Tonight I'm looking forward to reminding people across the country about the qualities and the experiences that make my husband the man and the president that he is today." Michelle wants people to know that "Barack is still that leader" America elected four years ago. She explained, "He's still driven by those core values and principles that make him want to do this incredibly tough job."
On Her Relationship With President Obama
"I've had an up close look at how hard Barack has worked to move this country forward to rescue our economy and rebuild our middle class and give our kids the opportunities they deserve." Of her upcoming speech, she said it has given her "an opportunity to reminisce about our lives together and how we grew up."
On Mothers and Families
"I know moms across the country are busy this week with school starting up," Michelle said as a mother herself. "In fact, I'm sitting here anxiously wondering how Malia and Sasha's first day is going." Michelle believes that this busy time of year for moms helps put this election in perspective: "We're doing everything that we can, all of us, to prepare our children for the next coming school year. But many of the issues that we're debating this election will affect them not just when they're in school but for their entire future. It's going to affect the futures of their own children as well."
Keep reading for her thoughts on health care, fair pay, and more.
On Health Care
"Barack knows that every single woman in this country needs access to the full range of health services. He believes that we as women should be able to make our own choices about our health care," Michelle said, before getting into the specifics of how the Affordable Care Act has impacted women's lives for the better. "Because he's fought so hard for historic healthcare reform," she noted, "insurance companies now have to cover basic preventative care. Things like contraception, mammograms. Things like prenatal care. And they have to cover this at no extra cost. Insurance companies can no longer charge us more as women for our coverage just because we're women. This is something that I know a lot of women and a lot of mothers understand: our kids can now stay on our insurance until they're 26 years old."
The first lady continued: "If you get a serious illness like breast cancer, right at the time you need expensive treatment, now your insurance company can no longer tell you, 'Sorry you've reached your lifetime limit and we're not going to pay it anymore.' That's no longer legal because of health reform. And these are huge steps forward for women and families."
On Fair Pay
"Barack believes that a woman who puts in the same day's work as a man should get the same pay," the first lady told us. "That's why the very first bill he signed into law was the Lily Ledbetter Fair Pay Act. So that it's easier for women to get equal pay for equal work. Barack knows that closing that pay gap can mean the difference from women losing $50, $100, $500 from every single pay check throughout their entire career." Michelle also argued that President Obama has helped families economically by helping women. She said, "When so many women are now breadwinners for our families in this country, women's success in this economy is key to families' success in this economy."
"Barack understands that issues like equal pay and women's health care aren't just women's issues," Michelle summed up, "they're really family issues. They're basic economic issues that affect our kids and our communities and our entire country." Now that you got a taste of the case she will make for her husband's reelection, will you be tuning in tonight for Michelle Obama's speech?