Michelle Obama Interview in May Conde Nast Traveler
Michelle Talks About Date Night in DC With Condé Traveler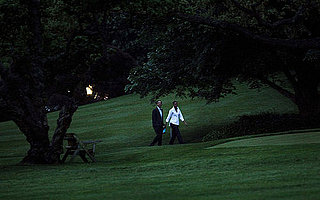 "If you were going to list the 100 most popular things that I have done as president," Barack Obama said after his first State of the Union address, "being married to Michelle Obama is number one." Indeed the couple seems to have a super-human relationship, which I can only imagine requires the same amount of commitment and work they put into every other aspect of their lives. Which is why, despite their hectic schedules and the complicated logistics of getting to and from a DC restaurant, date night has remained the first couple's tradition.
Though Michelle loves a night out in Washington, she tells Condé Nast Traveler the best part is coming home. "You pull up at night to the South Lawn and everything is lit up: That White House with that light shining . . . and you think, This is my house. This is where we live. Kind of cool. It's beautiful. And while I enjoy the time I spend with my husband — it's a good way to end the evening."
If she could have any kind of date night, though, it would be date day and look a lot more like ours. "I would love, and so would the president, to be able to walk up and down the Mall, not at night but in the middle of the day, when there are millions of people there."