Michelle Obama Oscars 2013
First Lady Michelle Obama Presents Best Picture Oscar to Argo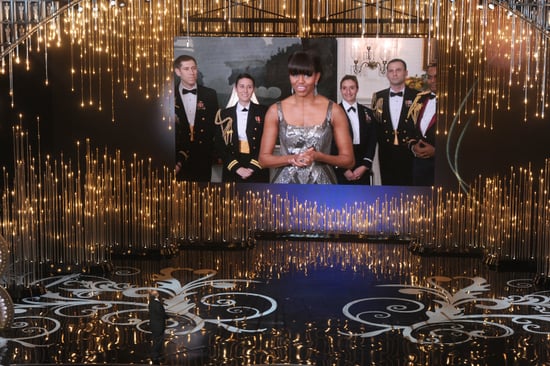 While attending the Governors' Dinner, First Lady Michelle Obama made a surprise appearance at the Oscars Sunday night. Michelle donned a sparkly Naeem Khan gown and presented the best picture Oscar remotely via satellite. The accolade went to Argo, which fittingly has a political theme as it's based on a true story about a CIA plan to help a group of Americans escape Iran.
"Welcome to the White House, everyone," Michelle said on screen. The FLOTUS then added that these nominated movies "took us back in time and all around the world. They made us laugh. They made us weep and made us grip our armrests just a little tighter. They taught us that love can endure against all odds and transform our minds in the most surprising ways. And they reminded us that we can overcome any obstacle if we dig deep enough and fight hard enough and find the courage to believe in ourselves."
Between this and Michelle's recent Jimmy Fallon video, we can only hope movies are next for the first lady!