Michelle Obama on Role Models
Michelle Obama's Ideal Role Models For Sasha and Malia Are "Real People"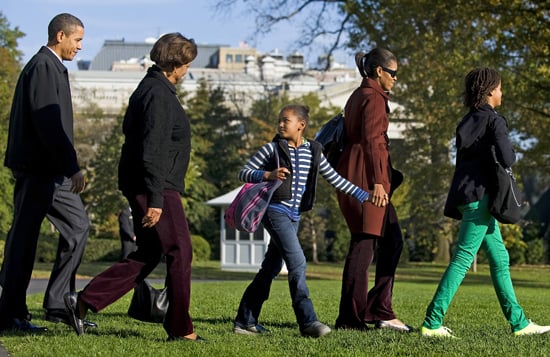 We were invited to the White House yesterday for a candid discussion with First Lady Michelle Obama. At the first-ever roundtable for women's online media outlets, the first lady discussed everything from her fitness routine to her fashion motto, and when we asked her whom she approves of as role models for Sasha and Malia, here's what she told us: "For me, role models are real people in my life who I actually know."
Michelle continued, "I think the girls, they're finding that the people in their lives — their dad, their niece, their cousins, my brother's kids — they look up to. I find kids are looking right in front of them. They don't view some old person in a book as a role model. My nephew just went to college, so now they're looking at, well, where is he going and why did he go there, and how did he get in there?" As for relationships, Michelle said her daughters look to the young women they know, explaining, "They're very fascinated by their relationships, and it's like, you have a boyfriend — what is that like?"
In addition to the extended family and friends, Michelle told us, "I hope I'm a role model for them." She said she values having her mother around, but in one way she's hoping to set a different example for Sasha and Malia. "I want my girls to see the model of a mother taking care of herself," she admitted, "because, quite frankly, my mother didn't do that. My mother was the traditional stay-at-home mom. She spent her days at our games and at the PTA, and cooking and doing everything. And the thought of her spending a dime on herself was just like, oh my goodness, why would I want to do that?"
The first lady also shared what she wants for her girls when they grow older: "I want them to be young women who understand that you can be educated, you can be smart, you can be pretty, you can have fun, you can sweat, you can run — and you have to do all of that to manage in this world. So I have to be that role model for them."