Michelle Obama Speaks Up For Military Wives
Michelle Obama Speaks Up For Military Wives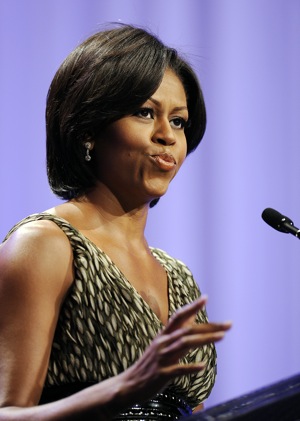 First Lady Michelle Obama used the platform of Maria Shriver's Women's Conference today as a chance to shine light on one issue: the plight of military wives.
Before Barack Obama decided to run for president, Michelle had a job she loved and small children at home. She needed some convincing before she got on board with the campaign, but once she did, Michelle decided to focus on women and be a voice for them. Michelle said that she felt "that every single woman I knew regardless of race, geographical location, income — we were all struggling to keep it together."
Once she got out there, something surprised her. "In the stories of the women I met I recognized my own story," she explained. But "there was one group of women whose stories were new to me – and whose questions I often didn't have answers to." Those were the military wives. Michelle explained that this group of women deal with the same problems many women face — be it work-life balance, or trying to get ahead in your career — but to a magnified degree. She told the audience: "Try balancing work and family when your partner has a dangerous job halfway around the world. Want to talk about glass ceilings, try doing that when you keep moving and don't work somewhere long enough to get promoted?"
Find out what you can do to help after the jump.
Michelle said the women she met told her about husbands who were on the third, fourth, or fifth deployment. They talked about missing birthdays, anniversaries, about trying to run a household all alone while trying to hide their worries from their husbands.
So what can we do to help? The first lady thinks women know how to help each other. "When things are bad we show up with a box of chocolate," she said. "When things are really bad we show up with a bottle of wine." She says we can help military families by taking over carpool or helping out with the kids. Professionals, like lawyers, can offer their services pro bono, and anyone can look up volunteer opportunities on www.serve.gov.
Do you have any personal experience with the challenges military families face?