Miranda Lambert Wore Mom's Wedding Dress
Would You Wear an Heirloom Dress?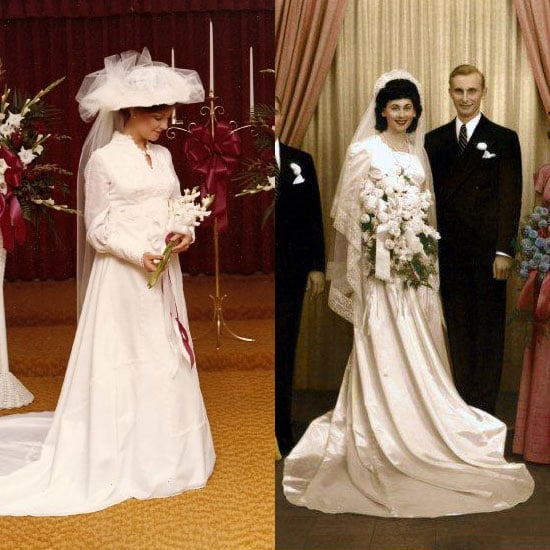 Country singers Blake Shelton and Miranda Lambert tied the knot last weekend, and Miranda chose to wear her mother's wedding gown over a new designer frock. She told Us Weekly, "My parents have been married for 33 years, so this dress is already a good-luck charm." I think it's really sweet that Miranda honored her mom by wearing her gown, and she was able to get the best of both worlds by changing into a short dress for the reception.
Since my mom (in the photo on the left) borrowed her dress, I couldn't have worn hers, but I had considered wearing my grandmother's sweet tea-length number that she still owns (and fits into!). I liked the idea in theory, but when it came down to it I ultimately decided to buy a new dress for my upcoming big day. Annie also says she loves her grandmother's dress (in the photo on the right) and would definitely consider walking the aisle in it. For me, the decision to wear a family heirloom comes down to this: are you willing to respect the history of the dress by only making slight alterations, or do you need to completely alter its design (à la Tess's dress butchery in 27 Dresses) to feel comfortable? If the answer is the latter, leave the antique frock alone.
Would you wear a wedding gown your mother or grandmother wore? If you wore an heirloom dress, share a photo in the comments!