Mitch McConnell Ashley Judd Tapes
Ashley Judd Opposition Research Leaked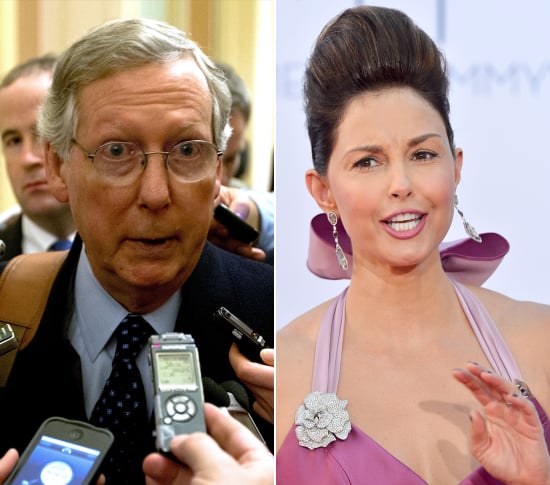 If you've binged on Netflix's political-insider drama House of Cards, then you should appreciate newly leaked tapes of Sen. Mitch McConnell's team sharing opposition research on potential campaign foe Ashley Judd. Mother Jones, the magazine that brought us Mitt Romney's 47 percent video, released the recording, which gives a gritty look at behind-the-scenes politics. On the tape, recorded Feb. 2, you can hear how aides discuss angles of attack, including the actress's depression and more liberal views. Since the tape came out, Judd, who had already declined to run, said she "expected nothing less from Mitch McConnell and his camp."
According to the recorded Team McConnell, while conducting opposition research they found "a haystack of needles, just because truly, there's such a wealth of material." Opposing the environmentally disastrous coal-mining practice of mountaintop removal, having a San Francisco area code for her cell phone, and using the term Obamacare affectionately were all considered weaknesses of Judd, as was her support of gay marriage and abortion rights. By virtue of being a celebrity, Judd has given many on-tape and in-print interviews over the years, and McConnell's camp planned to use the more embarrassing turns of phrase against her. They also cited her own memoir as potential ammo, since it mentioned her depression and the suicidal tendencies she had as a sixth grader.
While we won't get a Judd vs. McConnell campaign, these tapes show how McConnell's team would have manipulated Judd's past statements. For example, they laughed heartily at a recording of Judd saying "Brother Donkey, Sister Bird" when talking about religion. But they did not acknowledge that Judd, who often describes herself as a Christian, was referring to a sermon of St. Francis. For his part, McConnell has asked the FBI to look into the recordings, which you can hear below.