Mitt Romney's Daughters-in-Law
Get to Know Mitt Romney's Daughters-in-Law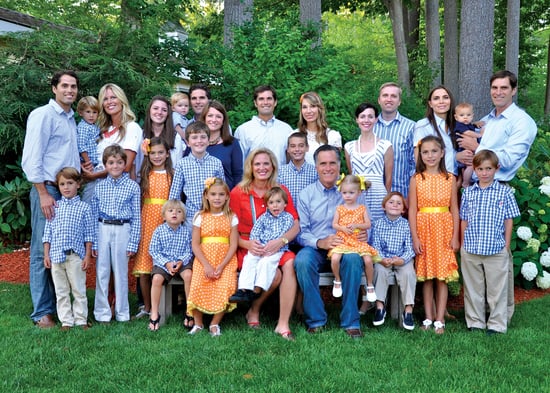 Taggart "Tagg" Romney is making news for saying he wanted to "take a swing" at the president. It apparently upset Tagg that President Obama called out his dad, Mitt Romney, as dishonest during the second debate. At 42, Tagg is the eldest of Romney's five sons. There's also Josh, Craig — who gave an emotional speech at the RNC partly in fluent Spanish — Matt, and Ben. And while he doesn't have daughters, Mitt Romney does have five daughters-in-law.
Both Mitt Romney and Barack Obama want to win the votes of women this year. The president often talks about the women in his life, including his grandmother, mother, wife, and young daughters. Mitt has had his wife, Ann, by his side for more than four decades, but who are the other women in his life who might influence his position? And I'm not talking about the women in the binders. Let's look into it by finding out what we know about Mitt's five daughters-in-law, who all spoke at a Women For Romney breakfast at the RNC and are all stay-at-home moms.
Jennifer Romney
Husband: Tagg Romney, 42, a private equity partner.
Children: 6
Hometown: They live in Belmont, MA.
Bonus fact: Tagg and Jennifer have dealt with fertility issues and have used surrogates to carry their children.


Laurie Romney
Husband: Matt Romney, 41, a property developer.
Children: 4
Hometown: They live in San Diego.
Bonus fact: Laurie praised Ann Romney for giving her the (somewhat retro) advice to be "a really good support to Matt and to not always weigh him down with all the little hard things that happen during the day."

Get the scoop on the rest below.
Jen Romney
Husband: Josh Romney, 37, a former male model considering a political career.
Children: 5
Hometown: They live in Salt Lake City.
Bonus fact: She can't cook. "Ann also tried to teach me to cook," Jen said, "but it was a futile attempt."


Andelyne Romney
Husband: Ben Romney, 34, a doctor.
Children: 1
Hometown: They live in Boston.
Bonus fact: She's called Ann Romney a "modern feminist." Andelyne said, "She's kind of the 21st-century woman. She is so comfortable in her own skin and I promise, that's for real."


Mary Romney
Husband: Craig Romney, 31 a former advertising exec.
Children: 2
Hometown: They live San Diego.
Boons fact: She keeps a "Mormon Mommy" blog, with cute pics of their kids and their grandparents Mitt and Ann, as well as chronicles of their family adventures. It has gone private recently.