Mitt Romney and Working Mom
Mitt Romney Called Out on "Working Mom" Flip Flop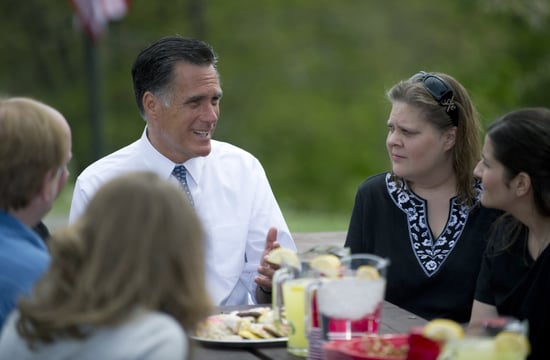 Last week's heated back-and-forth between Mitt Romney's wife Ann Romney and Hilary Rosen over whether or not Ann should be the voice of "working moms" due to her stay-at-home mom past has come back to bite Mitt in the butt.
In defense of Hilary's comment that Ann "has actually never worked a day in her life," Mitt has responded with "All moms are working moms." It sounds innocent enough, but this is yet again another example of Mitt Romney flip flopping on a women's issue. In January, Mitt said this in regards to reforming Massachusetts' welfare program:
"I wanted to increase the work requirement. I said, for instance, that even if you have a child 2 years of age, you need to go to work. And people said, 'Well, that's heartless.' And I said, 'No, no, I'm willing to spend more giving day care to allow those parents to go back to work. It'll cost the state more providing that day care, but I want the individuals to have the dignity of work.'"
Well, a group of House Democrats are calling Mitt out for his most recent comment that being a mom qualifies as a job with the Women's Option to Raise Kids (WORK) Act, which would allow low-income mothers with children 3 and under to stay at home and continue receiving benefits. Because currently, raising children doesn't meet the working requirement needed to receive benefits from the Temporary Assistance to Needy Families program.
"Mitt Romney was for forcing mothers into the workforce before he decided that 'all moms are working moms,'" says Rep. Pete Stark of California, one of the democrats behind the WORK Act. "I think we should take Mr. Romney at his most recent word and change our federal laws to recognize the importance and legitimacy of raising young children."
Two nights ago, The Daily Show addressed Mitt's conflicting statements with a video clip of his above speech. After the jump, watch Jon Stewart point out Mitt's mom problem!