Modern Family's Gender Stereotypes
Modern Family Is Not So Modern When It Comes to Women
Here's a post from OnSugar blog My DISFunkshion.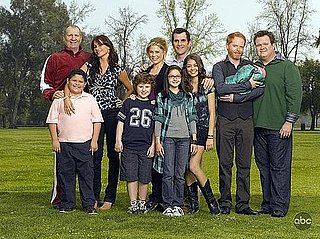 Modern Family, created by Steven Levitan (Just Shoot Me) and Christopher Lloyd (Frasier), is a show about the daily adventures of a big, apparently "wacky" American clan. However, their female characters portray traditional stereotypes.
Like the popular mockumentary The Office, Modern Family uses character interviews for an intimate, improvised effect, while the shaky camera work gives it the appearance of a home movie, a la the critically acclaimed series Arrested Development.
We're quickly introduced to three related families: Mitchell and Cam, a gay couple with a newly adopted Vietnamese baby; Mitchell's sister, Claire, a stay-at-home mom, her goofball husband Phil and their three kids; and Jay, the patriarch, his Colombian trophy wife, Gloria, and her son from a previous affair.
When I first watched the show, I was desperate for distraction, thanks to a messy breakup. I laughed aloud at their quirky imperfections and ridiculous love-hate squabbles, and even choked up at their heartwarming reconciliations. But as I hunkered down for the next serving of benign fun, something started to bug me. Find out what after the jump.
Each branch of the family lives in a large, designer home in a SoCal suburb. Hardly anyone has to go to work, least of all the women, who are represented only as mother, wife, or sex object. Even the two young daughters in this family are labeled separately as "smart one" and "pretty one." Claire and Phil actually remark that their beautiful teenage daughter isn't good at anything, but that her looks will help her meet a man who is.
In October, when women became the majority of the paid work force for the first time in American history, Maria Shriver celebrated the news, published in The Shriver Report, by the interviewing hundreds of families across America about the change. For an entire week Shriver was featured on NBC Nightly News to discuss the new face of laborers and to highlight that housewives are definitely no longer the norm. Having only one working parent is also unlikely.
These are not feminist speculations, but overwhelming facts. So how is it that the women of a so-called modern family are represented on television explicitly as exceptions to this historical revolution? Not to mention that no one in the family has been touched by our very modern recession and that they all seem to live more than comfortably on only one income.
Want to see more? Start following My DISFunkshion or start your own OnSugar blog. Maybe your stories will be posted here on TrèsSugar!