Modern Wedding Invitation Etiquette
Emily Post vs. TrèsSugar: Wedding Invitation Etiquette
Even if you're bucking most of the traditions, wedding etiquette can't be ignored — especially when it comes to the invitations. With the potential for hurt feelings, unintended insults, and misunderstandings, what should be a joyous celebration can turn into a high-heel-trafficked minefield.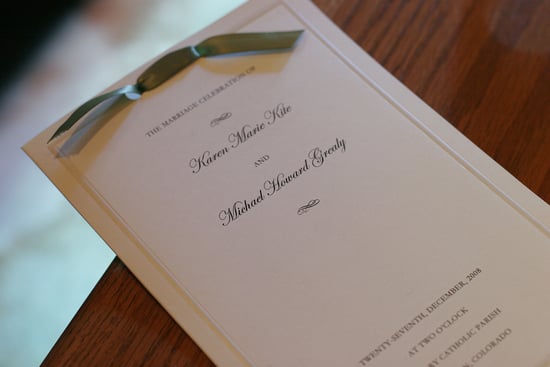 But that doesn't mean you have to be all Emily Post about it. I've rounded up some of the essential invite-related advice from Emily Post's wedding etiquette and offered my take. Feel free to chime in with your two cents too.
Inviting Sig-Os
Emily Post says: "Partners of invited guests must be included in a wedding invitation. This includes couples who are married, engaged, or living together."
TrésSugar says: I also have friends who are in long-term relationships but aren't living with their sig-os. In that case, I think the partners are also a must-invite. It might also help to define what "long-term" means (six months?) for you — especially if you're trying to keep the guest list small. Whether the partners get their own invitation or simply get included on your friend's invitation all depends . . .
How to Invite Couples
Emily Post says: "A single invitation addressed to both members of a married couple, or a couple who live together, is sent to their shared address, while invitations to an engaged or long-standing couple who don't live together are sent separately, to each address."
TrésSugar says: I think if one member of the couple is a very good friend, and her partner is someone you wouldn't invite to the wedding otherwise, you should just address the invitation to your friend and list her partner's name as well. On the off chance they break up before the wedding, you don't want the ex-boyfriend showing up thinking he got his own invite.
For more modern etiquette, read more.
Plus Ones
Emily Post says: "Allowing single guests who aren't attached to a significant other to bring a date is a thoughtful gesture, but one that is not required."
TrésSugar says: Even if you don't allow every single guest to bring a date, I think it's a requirement to let your very close friends bring a plus one — even if they opt not to.
Invitation Assembly
Emily Post says: "Formal, third-person invitations are traditionally inserted into two envelopes, an inner envelope and an outer envelope. The outer envelope carries the return address (printed) and the recipient's name and address (calligraphed or handwritten). The inner envelope, left unsealed, bears only the names of the people invited. An inner envelope is unnecessary for an informal wedding."
TrèsSugar says: Have an inner envelope only if you want it — informal wedding or not. I think an inner envelope is pretty unnecessary for any wedding. It's just extra paper and bulk, and I can't imagine anyone opening an invitation and exclaiming in horror, "What? No inner envelope?!" But if you like this tradition, by all means, do it!
Wedding Websites
Emily Post says: "If desired, create a wedding website."
TrésSugar says: Maybe it's just my chosen profession speaking, but I think a wedding website is pretty much a must. It saves you from having to include tons of extra info in your invitation and saves paper too.
Source: Flickr User zenobia_joy