Most Popular Forms of Birth Control
What's Your Preferred Method of Birth Control?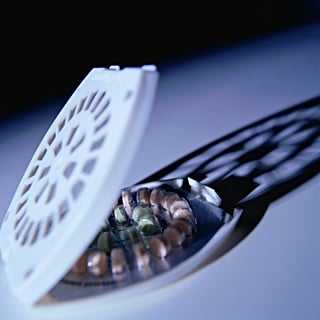 The Pill is still queen of contraception, according to new research from the National Center of Health Statistics. The center interviewed 7,356 women ages 15 to 44 over two years and compared the results to similar surveys conducted in 1982, 1995, and 2002. As it was in 1982, the pill is still the most popular choice among women looking to prevent pregnancy, but whether you're more likely to use birth control in the first place depends on your background.
Based on the data, the more educated a woman's mother is, the more likely she is to use birth control. Use also varied on race. White women are the most likely to use contraception, followed by Asian American women, Hispanics, and then black women. Here are some more stats:
In 1982, 55.7 percent of women used contraception. Today, 61.8 percent of women do.
17 percent of women use the pill (15.6 percent did in 1982), 16.7 percent rely on female sterilization (12.9 percent did in 1982), and 10 percent of women rely on condoms (6.7 percent did in 1982). As for other nonhormonal options, there was an increase in IUD use and a near end to the use of a diaphragm. The use of the so-called withdrawal method also went up.
Male sterilization has remained steady at 6.1 percent.
The use of emergency contraception has increased to 10 percent of women from 4 percent in 2002.
What's your preferred method?