Muslim Women Wear Burqinis to Swim
Ladies' Swim: What Some Muslim Women Wear to the Beach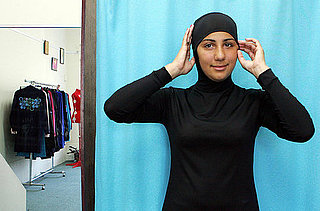 Saudi Arabia may be a fundamentalist-Islamic state with rules for women that are stricter than a Christian Summer camp, but that doesn't mean no swimming. Women just need to cover up, but with more hijab and less sunscreen.
Writer Maureen Dowd hired herself a male escort — not that kind, but one that allows women out in the Saudi Arabian public — and scheduled her Summer vacation. In August's Vanity Fair she tells women how to make the most of their desert-dry and liquor-dry (alcohol's banned) stay. The full article isn't out yet, but a teaser fills us in on every woman's must-have item if she's departing to the Red Sea — the burqini.
Part burka and no part bikini, women style up the full-body bathing suit with scarves, skirts, and colorful patterns. Unlike the burka, though, it covers up only the head and not the face.
Like the burka, it's caused controversy in countries outside the Middle East. France, an intensely secular state, made waves earlier this year by moving to ban the burka, shocking everyone except certain French-Muslim women who love to swim: two years ago, a French pool banned the burqini.