Must the Female Nerd Deep Down Be a Pretty Actress?
Must the Female Nerd Be a Pretty Actress Deep Down?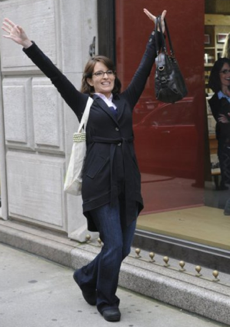 Popular for her unpopularity, the female nerd has long been loved for her willingness to put it all out there. Maybe even show her dark side? These antiheroines are always socially maladjusted yet professionally successful. They annoy everyone around them while endearing an entire audience. And they are, without exception, played by pretty actresses.
The American Prospect notes it's almost like nerdy female characters have to flaunt their frumpiness just so they're believable. No one exemplifies this better than Tina Fey's Liz Lemon on 30 Rock. By all sane standards, Tina Fey is an attractive woman. Watching Liz Lemon makes me think it's not her nerdiness that's the problem, but the snobby egomaniacs who surround her. Which, if 30 Rock is a metacritique of how single women of a certain age are treated, makes sense.
Yet even when the soon-to-be canceled Ugly Betty's ratings dipped, the producers — who did a great job making America Ferrera look ugly with big glasses and bad wigs — tried to save the floundering show by making its star less ugly.
So it appears the only way to portray a nerdy woman is to make her a ticking bombshell; one that might whip off her glasses and throw down her hair at any second. Is it that regular women, who relate to their nerdiness, can hope that's true for them too? Or is putting a nonbeauty in a main role just a risk Hollywood can't take?