Mystery Date Board Game
Mystery Date: the Board Game That Inspired Last Night's Mad Men Title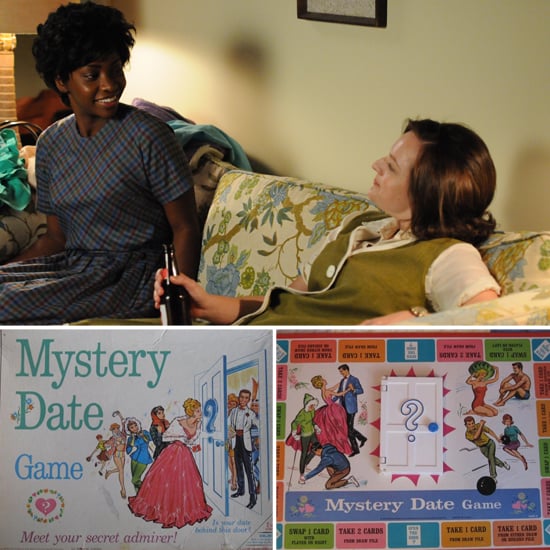 We're all well-versed in '90s board games for girls, but did you know there was popular '60s board game that inspired the title of last night's Mad Men episode (and had a cameo in a commercial on the show)? "Mystery Date" is a board game for girls ages 6 to 14, and there have been several newer versions since the first one came out in 1965 — the year before this season of Mad Men is set. The object of the board game is to be all dolled up for your romantic rendezvous by getting your hands on three matching cards to put together your outfit, which needs to match your man and the type of date you'll be going on. To find out who your date is you spin the handle on the "mystery door" and open the door to find one of four date options plus a "dud" (a disheveled and dirty guy): the formal dance date, the bowling date, the beach date, and the skiing date. If your outfit doesn't match your date's, the play continues to the next player.
While the dating board game is lighthearted, the name takes on a much darker overtone from what it references in last night's episode, the worst kind of unknown caller at your door. The show centers on the fascination and fear, especially from the women, of real-life serial killer Richard Speck's systematic rape and murder of eight female student nurses from a Chicago hospital on July 14, 1966. The mass murderer broke into the hospital and held nine nurses captive in a room while he took each out one by one and tortured, raped, then killed all but one. The lone surviving nurse saved herself by hiding under the bed, another theme carried through the Mad Men episode. This horrific killing is an interesting historical 1966 event to base an episode on, but we have to wonder what the further ramifications were for women during the era. We see all generations from Sally to Peggy to her grandmother handle the fear in different ways — including wielding a knife and hiding under the couch — did this mark the end of the friendly, trust-your-neighbor mentality of the '50s and early '60s? Is this when society stopped trusting the mystery date at the door?
Photo courtesy of AMC
For a better glimpse of the Mystery Date board game, keep reading.