National Eating Disorder Awareness Week: Better Body Image
Since it's National Eating Disorder Awareness Week, NEDA ambassador and best-selling author Jenni Schaefer is sharing her insights with us. Yesterday Jenni told us that although she struggled with serious eating disorders for years, she thinks recovery gave her a better body image than she could have ever hoped for. She said: "I spent years talking to a therapist about the size of my thighs. Normal women out there they don't have that luxury, they don't get those tools." So I asked her to share ways we can all improve our body image.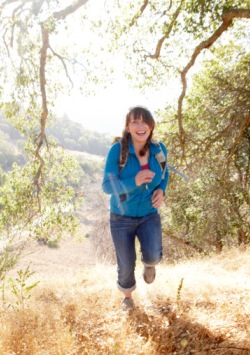 Focus on what your body does, not what it looks like. Jenni says: "Rather than always concentrating on what my body looks like, I shifted my focus to what my body does. I started focusing on how lucky I am to have legs that can hike up a mountain, rather than thinking 'wow my legs are so big.' Instead, we should appreciate what our bodies do. Especially with women, our bodies are so amazing. We can bear children. If we started shifting our focus on what our body does and not what it looks like — that was big for me."
Replace negative body image with life experiences. Jenni explains: "Realize that your body is just a vehicle for life. I've heard people say it's like an earth suit. It's what you get to wear to walk around and experience the world. Instead of staying in my apartment and hating my body and wrapping myself up in sweats and big blankets and hiding from the world, I started taking off those things, putting on a swimsuit, and going swimming with my friends.

"I was replacing the negative shame I had for wearing a swimsuit, with the life experience of getting a swimsuit, putting it on, and jumping in the pool. At first, women, and men, need to know, they're going to feel uncomfortable. If they hate their body and they put on a swim suit and go in the water, they'll probably still hate their body. But if you do it slowly over time that experience will become fun and joyful that you'll stop hating your body so much. Bad body image is like a prison, it keeps people trapped in their minds and in their houses, literally."