National Eating Disorder Awareness Week: Divorcing Ed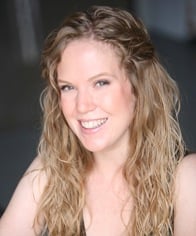 At age four, author Jenni Schaefer felt fat in dance class. At the age of 22, when her life had become unmanageable thanks to anorexia and bulimia, Jenni committed to getting help and began the long path toward successfully "divorcing" her eating disorder. Jenni has written two books — Life Without Ed and Goodbye Ed, Hello Me — and now serves as an ambassador for the National Eating Disorders Association (NEDA). This is National Eating Disorder Awareness Week, so I talked to Jenni about her journey toward life without an eating disorder and will share her insight with you this week.
How did you become a NEDA ambassador? I got help at 22. I was struggling with anorexia and bulimia and it took many years to get better, but once I finally did I wanted to help get the word out. I recovered using a unique technique — my first book is called Life Without Ed, and "Ed" is an acronym for eating disorder. I was taught to treat my eating disorder like a relationship, rather than an illness. So in therapy I actually talked to Ed, and I learned to find my own voice and eventually divorce Ed, which is a metaphor I used a lot in recovery. . . It's a little confusing now, that "ED" actually stands for something else! 
How did you know you needed help? I actually thought for so long that I was really healthy, and I think that's what most women and men that first get into eating disorders initially think — and maybe they are initially healthy, but so many times dieting can spiral fast into a clinical eating disorder. I think I finally realized I had a problem in college when my life was spinning out of control. I felt hopeless; when I graduated I couldn't even hold a job waiting tables. Here I was, I was supposed to go to medical school, I had straight As in college and I couldn't hold a job waiting tables because my eating disorder was so bad. And that's when I finally decided to get help, when I was at rock bottom. I didn't want to live another day if I had to live with my eating disorder, but I actually wanted to live.
Jenni acknowledges that the line between an eating disorder and dieting isn't always so clear: It'd be safe to say for someone struggling with an eating disorder that in the beginning, they're not going to know. They're going to think they're being healthy. They're going to be receiving compliments for their eating behaviors. A key question to ask yourself: is my life unmanageable because of food and weight? Is my life miserable because of food and weight? And if your life is unmanageable and you're unhappy because of food and weight then you need to get help regardless of what you're doing with food, regardless of what you weigh. 
Jenni, who lost a friend to anorexia last year, says that if you suspect a friend is struggling you have to do something: So many people are afraid to approach someone about a mental illness regardless of what it might be, but this is an illness that kills.
So what should an outsider do? To find out,
.
It's different for different people, but one of the worse things you can say is, "You're so thin," or "I've noticed you've lost a lot of weight," because they'll take that as a compliment. So it's best to be very specific and point out behaviors that you've seen, but don't gear them toward weight. You might say: "I've noticed in the past few weeks you seem to be isolating more, you seem to be moody." Because a sign of an eating disorder is isolation and moodiness, depression. Another thing people might point out is, "I notice that when we go out to eat you always get up and go to the bathroom immediately after eating and I'm concerned about that" or "Lately you've been skipping lunch, and I'm concerned about that." It's OK to mention specific behaviors but steer away from weight.
And also use "I" statements rather than "you." "I'm concerned," "I'm here for you." "I want to help you." Instead of focusing on "You've lost weight," or "You're killing yourself" that just makes people feel ashamed and with eating disorders they already feel ashamed. And they don't need to feel any more guilt because this is an illness, not a choice. They don't choose to have it, but they do choose to get better, and a friend can be a key in making that choice. 
Jenni says one of the best things about NEDA is the anonymous helpline: People can call, and no one will ask their name and they can actually get resources and ask questions, and it's a free anonymous helpline. You can call the hotline at: 1-800-931-2237.