National Eating Disorder Awareness Week: The Thin Ideal
Since it's National Eating Disorder Awareness Week, NEDA ambassador and best-selling author Jenni Schaefer is sharing her insights with us. After struggling with anorexia and bulimia, Jenni finally divorced her eating disorder. Here are Jenni's thoughts on how society plays a role in eating disorders.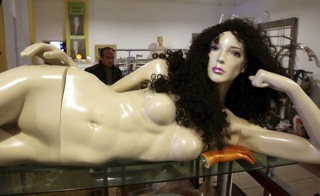 How much does society contribute to an eating disorder and how much is it an individual's issue? Leading researchers on eating disorders often say: genetics loads the gun, and environment pulls the trigger. Certain people are born with certain personality traits that can lead to an eating disorder. Some of those traits are compulsivity, high anxiety, perfectionism.
I was born with all of those traits. And then environment pulling the trigger, for me that was mostly being in our society with the media and with the focus on the thin ideal and the message that if you're thin you'll be happy and you'll be smart and successful. So when I applied all those traits — compulsivity, high anxiety, perfectionism — to trying to meet the thin ideal, for me it was the perfect storm for an eating disorder.
Still, Jenni says society's thinness obsession can have a negative impact on anyone: But what I see now is that regardless of whether someone has a clinical eating disorder, so many people in this world live in this disordered-eating zone. They're worried about food all the time, they still eat but it's a constant worry, a constant weight. They're a healthy weight, but they still worry. And I think it's really sad that the norm is to not like your body. I think society really has an eating disorder — I call it "societal Ed." 
How did you get past the thin ideal? The keys for me with body image was giving myself time and patience to accept and then love my body. Also it's a continuum as well — I started off hating my body, moved to not liking it, then I moved to accepting it, then I moved to liking it, then I moved to loving it. That continuum of my body image improving took years and years. What I've learned, it's really wild, people I know who have recovered from eating disorders have so many more tools to deal with "societal Ed," aka the thin ideal. I spent years talking to a therapist about the size of my thighs. Normal women out there — they don't have that luxury, they don't get those tools. I feel that my eating disorder forced me to be healthier than I ever would have been. 
Come back tomorrow to learn more about the tools anyone can use to improve body image.