National Survey of Sexual Health and Behavior Findings
5 Facts About Sex in the United States Today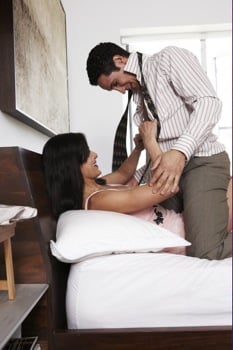 Nobody knows what's going on between American sheets better than the Center for Sexual Health Promotion at Indiana University. I know that will make none of us sleep easier, but at least it has legitimate reason to know what's going down. Researchers surveyed 5,865 people, ages 14 to 94, to determine what sex is like in 21st-century America.
Some findings will surprise you; most won't. But here are five highlights to get you up to date.
Old people use condoms the least, minorities the most
Condoms are used twice as often for casual sex. Use is higher among black and Hispanic Americans than whites and other racial groups. Adults over 40? They use condoms the least.
Intercourse among teens is not an epidemic
Maybe middle-age adults are so worried about teens because they're not using condoms? While teen sex will always be a popular after-school sport, it's not the epidemic worrywarts believe. Condoms are used regularly among teens, and sex typically occurs in relationships.
Faked orgasms may be as popular as ever
Eighty-five percent of men report leading ladies to orgasms during their most recent sexual "event." Yet only 64 percent of women report orgasmic bliss. The conclusion? Men are lying, women are faking, or gay sex is throwing the findings off.
What else? Find out below.
Women like to mix it up to orgasm
While vaginal intercourse is enough to make most men see the light, women need variety. The more sexual acts they include in one, um, laying, the more likely they are to orgasm.
Lots of Americans still in closet
While about seven percent of women and eight percent of men identify as gay, lesbian, or bisexual, the percent of Americans getting it on with the same sex is higher.
What findings surprise you?