New York Airports Reject PETA Ad
Airport Security Is Not the Time to Recruit Vegans
Two things that should never be sexed up are animal rights and airport security, but here we are. PETA's latest aggressive ad is of a woman's body in a bra and underwear, saying "Be proud of your body scan: go vegan." This makes two assumptions: first, deep down we care what TSA employees think of our bodies, and that fear is enough to change dietary habits.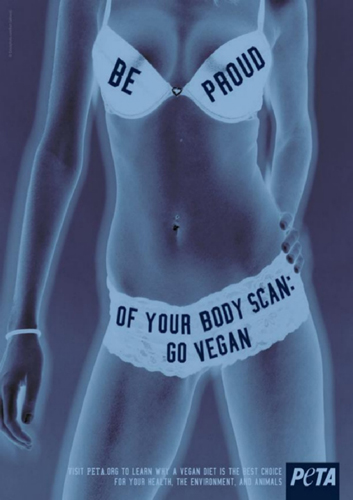 Fortunately, New York's LaGuardia and JFK airports are grounding the idea. They rejected the ad, prohibiting its placement near airport body scanners. JCDecaux North America, the company in charge of the airports' advertising, says the decision is based on the company's policy against "nudity or political ads," not because it's that risqué.
I wouldn't say it's risqué either, but just a gross exploitation of two things that should never meet but have: body image and airport security.