New York Times Says Best Friends Are Bad For Kids
The Trouble With BFFs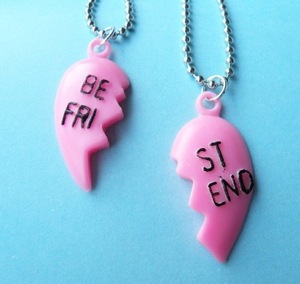 I'll never forget the day in fifth grade when my best friend stopped talking to me. We had spent fourth grade being inseparable, and had gone to two Summer camps together that Summer. But when school started again, she had a new BFF and made it clear to me that she had moved on. That might have been for the better though. Educators and others who work with children worry that exclusive best-friend relationships can lead to destructive social behavior like bullying.
In its story on best friend trends, the New York Times explains that the social interactions of children catch the attention of parents and teachers these days: "today an upsetting text message from one middle school student to another is often forwarded to school administrators, who frequently feel compelled to intervene in the relationship." Such relationship management includes encouraging students to have more than just one friend. One interviewed school official said: "if we find a best friend pairing to be destructive to either child, or to others in the classroom, we will not hesitate to separate children."
Teachers and parents have become more involved, but it's clear that cliques and exclusivity are still just part of growing up. And once you become an adult, jealousy, cliquiness, and competitiveness don't simply disappear. While it was hard to accept the end of my exclusive friendship with my 10-year-old BFF, I'm certain that experience taught me valuable life lessons and I would never trade in the fun memories I made sharing secrets and goofing off. Based on your experiences, do you think kids would be better off without BFFs?