News Anchor Barbie Has a Flair For Power Pink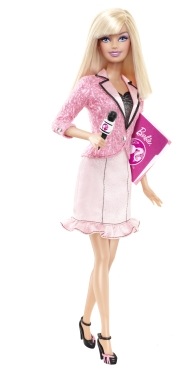 "A flair for journalism — and power pink!" is how Mattel sells its new "News Anchor" Barbie. While the doll represents the reality that female newscasters often look like beauty queens, it would be refreshing to see a journalist Barbie sporting a pair of practical flats and cute slacks, along with a recorder and notepad.
When you think of the case of Ines Sainz, the Mexican sports reporter allegedly harassed in the Jets locker room, it seems women can't win. She had to defend her wardrobe, which was called too tight and too sexy. Keith Olbermann called her the worst person in the world, saying she undermined every female sports reporter by dressing unprofessionally.
If Ines Sainz's outfit undermines female reporters, maybe we should stop selling little girls News Anchor Barbies dressed in heels, formfitting clothes, and power pink.