Newsweek Interview With DSK Maid Quotes
DSK Maid Breaks Silence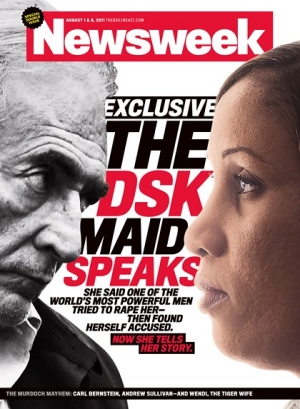 After her anonymity and reputation have already been compromised in the media with claims of prostitution and blackmail, the maid accusing ex-IMF chief Dominique Strauss-Kahn of sexually assaulting her has come forward in the press. Thirty-two-year-old Guinean immigrant Nafissatou Diallo granted a cover interview with Newsweek and will appear on Good Morning America and Nightline this week.
In her three-hour interview with Newsweek, Diallo, who cannot read nor write in any language, said working at the Sofitel hotel was the best job she could ever hope to have. The article noted that at some times her tears seamed forced, but overall her recount of the assault was "vivid" and "compelling" and backed up by hospital records. Here are more highlights:
On how the attack happened: "Hello? Housekeeping." Diallo looked around the living room. She was standing facing the bedroom in the small entrance hall when the naked man with white hair appeared. "Oh, my God," said Diallo. "I'm so sorry." And she turned to leave. "You don't have to be sorry," he said. But he was like "a crazy man to me." He clutched at her breasts. He slammed the door of the suite.

On the aftermath: "I watched Channel 7 and they say this is [the] guy — I don't know — and he is going to be the next president of France. And I think they are going to kill me."

On the attacks to her reputation: "Because of him they call me a prostitute," she said. "I want him to go to jail. I want him to know there are some places you cannot use your power, you cannot use your money." She said she hoped God punishes him. "We are poor, but we are good," she said. "I don't think about money."
Do you think coming forward for an interview will help the maid's case?