Nicolas Sarkozy's Height
The Sarkozy Complex: Short Men Aren't Angry, but Should Be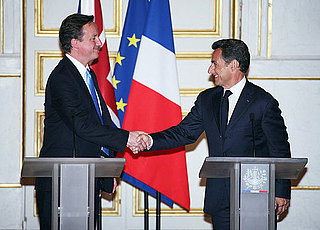 Tall security need not apply to protect French president Nicolas Sarkozy. An unidentified police source told the Le Parisien that "there's no point recruiting supermen" as "large-sized" candidates would not likely be hired.
This isn't the first time we've heard about the 5'5" president's short-man complex. He's been spotted adding height with heeled shoes, accused of putting short factory workers (only) on stage for a televised speech, and standing on boxes hidden behind podiums while speaking.
Can you blame him? Psychologists Leslie Martel and Henry Biller found that short men don't measure up in the eyes of men and women. Both sexes perceive them to be less capable, confident, successful, masculine, outgoing, secure, positive, and mature than taller men. And scientists have evidence that they're more jealous.
The Napoleon complex — named for the French emperor who was two inches taller than Sarkozy — says short men are angry, but that myth's been debunked. Taller men have proven to be more aggressive and quicker to lose their tempers.
But as long taller men earn more money, get more responses to dating ads, and are more likely to marry and have kids, I'd say short men actually do have the same-sized end of the stick. Maybe they should be angry?