The Night Circus Author Interview
The Night Circus Author Erin Morgenstern Talks Twilight and Harry Potter Comparisons and Her Casting Wish List
As a huge Harry Potter fan, I must admit my interest was piqued when I heard about a new book last month being compared to the magical series, The Night Circus by Erin Morgenstern. To add fuel to the buzzy fire, the film rights for the book have already been picked up by Twilight's entertainment company Summit. After reading the enchanting, sensory love story (targeted for adults, I should add) about dueling magicians who fall in love while competing in a mysterious circus that runs from nightfall to dawn, I believe it stands on its own. We chatted with Erin, who has a background in theater and studio art, about her first novel and whom she could picture playing protagonists and star-crossed lovers Celia and Marco on the big screen. Read her thoughts below.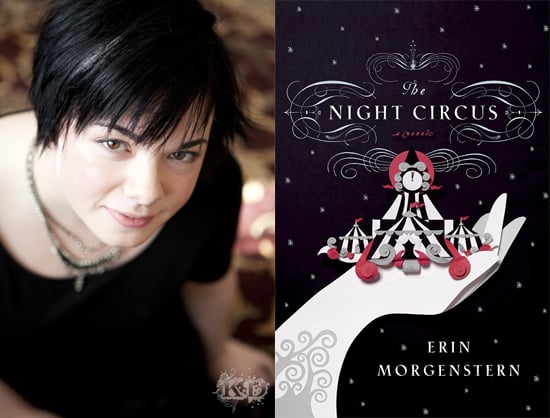 TrèsSugar: What do you think of the comparisons being made to Harry Potter and Twilight?
Erin Morgenstern: It has some aspects in common with Harry Potter. I'm still not sure where the Twilight comparisons come from, maybe the fact that Summit is involved with the film rights. There are plenty of books that I think would be a little more apt, like Jonathan Strange & Mr. Norell by Susanna Clarke, but not enough people have read that. I hope that it ends up being the kind of book that people don't have to compare it to anything. A lot of people tell me that they have trouble describing it. It's a complicated work because it's about the circus, but it's about the love story, but it's about so much more than that at the same time.
TS: What's your favorite love story in literature? Did it influence Celia and Marco's love story?
EM: I'm not really big on love stories. I'm not that classic romance sort of girl. Although I can't say it's my favorite love story, there's definitely a Romeo and Juliet aspect to it. I do kind of love a star-crossed romance. It makes everything so much more interesting and complicated, and sometimes angsty. I think that makes for a really good story.
TS: You say in your website's "about me" section that you were reading Stephen King at age 12 and J.K. Rowling at age 21. How did that affect you as a writer?
EM: I grew up in that time frame where there wasn't a YA section yet. There was a children's section and an adult's section. So when I hit around 11 or 12, I just started looking through the adult section. And for some reason I just got stuck on Stephen King and read practically the entire Stephen King shelf. And then when I was in college, I took a children's literature class, and we read the first Harry Potter. That influenced my lack of sense of what's an adult book and what's a children's book, because I had a very backwards reading life at certain stages. I like adult books that capture that child-like whimsy and children's books that don't hide the adult side of things. And I think there's more room for overlap between adult books and children's books.
TS: What are you reading right now?
EM: I'm in the middle of Lev Grossman's The Magician King. I finished The Magicians a couple weeks ago, and I have a couple events coming up that I'm doing with Lev Grossman. But I'm enjoying it very much, partially because I've read Harry Potter, I've read the Narnia books, and it has an interesting spin on those tales that I know really well. And before that I just recently finished the new Haruki Murakami book (1Q84) that comes out next week, and it's really just epic and wonderful. It's so, so good. It doesn't feel like it's 1,000 pages when you're reading it. I didn't want it to end.
TS: You've mentioned you could see Geoffrey Rush as Prospero in the film adaption, but who could you see playing Celia and Marco?
EM: I don't really picture actors when I write. Geoffrey Rush was sort of the one exception, because when I was coming up with him as the character he had a Geoffrey Rush vibe in my mind. For Celia and Marco, they look very particular in my head, and I don't have actors who really capture it. Celia was kind of inspired by Clara Bow. I found this old picture of her that wasn't that sort of classic short hair, her hair was all wispy and a little more Victorian-looking. She has very dark eyes, and that's sort of what Celia looks like. If we could find a modern-day Clara Bow type. And the actor who has a little of the Marco feel to me is Lee Pace, but he's going to be too old by the time we get around to the filming, which is unfortunate.
TS: Is there a sequel in the works. How long do we have to wait for the film?
EM: There's no plans for a proper sequel. I don't think it's the kind of story that lends itself well to "this is what happens next." And it was never intended to be a series. I do think at some point I wouldn't be opposed to do something like a collection of short pieces of side stories or people's back stories or a few of those things that happened afterwards.
The film is at least a couple of years away. It's in the stage of negotiations with producers, trying to find someone to head the ship.
TS: What did you learn about relationships as you wrote The Night Circus?
EM: I think that the essential thing I kept coming back to is that a relationship is about more than just two people. There's so many more factors in the equation, whether they're other people or circumstances. Relationships are never simple, there's always so much more going on.
If you read the book and want to find out more insights from Erin on the plot and process of writing, keep reading!
TS: Which character do you most relate to?
EM: I have a whole lot of personality traits in common with Celia, and I did that on purpose. I'm an easy crier, and I wanted her to to be very strong but have that emotional side. And a lot of Chandresh's character is also based on my personal experience as a theater director because it's an odd place to be when you're a director or a producer, where you're so involved for so long, and then once the show is ready to go, you're no longer needed. It's a dramatic interpretation, I was never drinking that much brandy, but I think he definitely had some things in common with me as well. And, of course, Widget being the storyteller is very much me.
TS: How were you inspired to come up with tents like the ice garden and the cloud maze?
EM: Some of them were just kind of working within the perimeters that I had, fitting the color scheme. The ice garden came from wanting to have something that was light. At that point I had a bunch of tents that were dark, so I wanted to have something that was all white but textured. And I thought how could I have a garden that has no color? And that's where the ice idea came from. The cloud maze was inspired by this thing that at the Boston Children's Museum when I was growing up, there was this three-dimensional climbing maze. It was like jigsaw puzzle pieces layered like a cake, so you could climb up in certain areas, but you could only crawl through in others.That memory, combined with making it monochromatic and giving it a little more fantastical flavor, is sort of where the cloud maze came from.
TS: Why did you decide to have the entire circus be only black, gray, and white?
EM: I think it does two things. It gives it a certain formality, which makes it sort of very evening wear, black tie appropriate, which works well for being nocturnal. And it reduces everything to very basic light and shadow. There's something that's very evocative to me about black and white photography or black and white film. I think by taking away the color information sometimes you can see the subject better. It makes everything a little crisper and cleaner. And I thought that would be an interesting visual to play with.
TS: How did your background in theater and art help you write the book? How did it hinder?
EM: I have a very visual imagination, and I always think in pictures and in a theatrical sort of way. I'm always staging what's going on in my head. Every scene, I was thinking about where people were standing and how the room was lit and that sort of thing, which I think probably created a more immersive environment because I was purposefully trying to describe things on a greater level than just words. I think sometimes it hindered me a little bit because I did study playwriting, and sometimes I would find myself just writing dialogue. And then I'd go back in to layer things. I'm seeing so much that it's sometimes hard to distill everything into coherent prose. It's almost like it's too big and theatrical in my head and I need to find ways to make it kind of smaller and able to translate it.