Nudist Activity Ideas
How to Partake in National Nude Recreation Week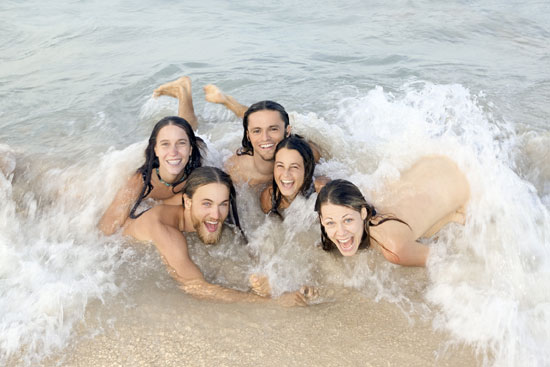 While most Americans celebrated the independence of our country on Monday, some people celebrated freedom from clothing. The Fourth of July marked the start of National Nude Recreation Week. A spokesperson for the American Association for Nude Recreation says, "If people would only try it once, I think they'll see the joys of being naked outdoors." Plus, trying out the nudist lifestyle is a fun way to celebrate and accept your body.
If you want to test the naked waters but aren't quite ready to take it all off and jump into a national nudist group like The Naturist Society, there are many ways to get involved. Here are some ways you can strip for National Nude Recreation Week whether you're new to nude living or a pro.
Nude Newbie: Take baby steps into nude recreation by baring all in your home and backyard. Do everyday activities like gardening, cooking, getting ready for work, and watching TV to see how it feels.
Strip-Down Swimmer: If you've made it past being naked by yourself in the comforts of home, venture out a bit by skinny-dipping with your significant other or best gal pals in a lake, hot tub, or swimming pool. You can do these activities at night if you're not quite ready for baring all in the sunlight, and hot tub bubbles hide everything!
Au Naturel Novice: The next nudist step is to find a nude beach where you can get some sun without the tan lines! Not ready for tossing the bikini bottoms off? Try out bare bathing by just going topless your first time.
Full-Frontal Flasher: If you're lovin' being nude at the beach, now's the time you can look into joining a nude club or resort to try out naked activities with other like-minded nudists. There are even nakations like The Big Nude Boat, a nine-day nude cruise!