Obama Fundraiser With Beyonce and Jay-Z
Obama Talks Women in His Life While Fundraising With Jay-Z and Beyoncé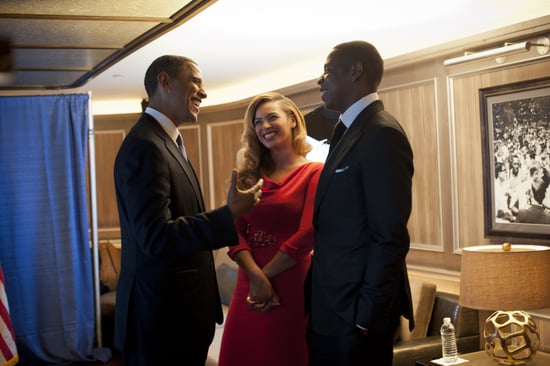 Donors dressed in their best headed to New York's 40/40 Club last night to attend a fundraiser for President Obama hosted by Jay-Z and Beyoncé Knowles. Each ticket went for $40,000, and guests enjoyed Champagne and appetizers while Beyoncé introduced the guest of honor. She said, "I can't tell you how proud we are to host tonight's event with President Obama. We believe in his vision." The president then took the stage, and said he's working for a "more fair, more just" world. In between talk of policy, the president had sweet things to say about the women in his life, including First Lady Michelle Obama, his daughters, and even Beyoncé, whom he called a close friend.
The first lady missed the fundraiser, which raised a reported $4 million for Obama's reelection bid. But Michelle Obama is playing an active role in the campaign. In fact, she's taking questions from our readers! You can submit your questions to Michelle Obama, who will be answering a selection on PopSugar in the coming weeks. Here are the highlights from President Obama's remarks at the 40/40 fundraiser.
On Beyoncé: "Beyoncé couldn't be a better role model for our daughters because she carries herself with such class and poise and has so much talent."
On how Jay-Z can relate to him: "And Jay-Z now knows what my life is like. We both have daughters, and our wives are more popular than we are. So we've got a little bond there. It's hard, but it's OK."
On his daughters: "Let me just begin by saying to Jay and Bey, thank you so much for your friendship. We are so grateful. Michelle and Malia and Sasha are mad at me because they are not here. That doesn't usually happen. Usually they're like, 'we're glad you're going, we don't need to go.' But every time they get a chance to see these two they are thrilled, partly because they are just both so generous, particularly to my kids. And Malia and Sasha just love both of them."
On the issues at stake for women: "Now, there are other things that are at stake — who gets seated on the Supreme Court? Are we going to allow ourselves to go back to a time when politicians in Washington are telling women how to make healthcare decisions? Michelle tells me you guys are actually quite capable of making those decisions by yourself."