Obama on Gay Marriage
Obama's Complicated Relationship With Gay Marriage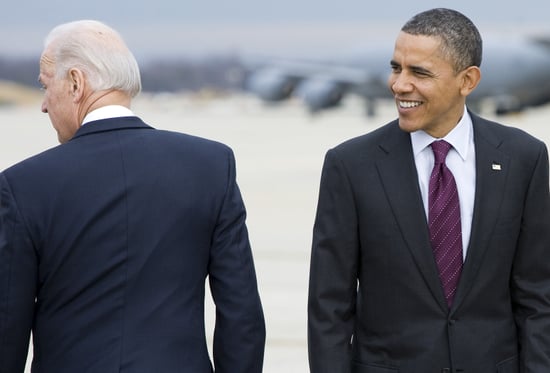 The Obama administration has had a rocky relationship with its stance on gay marriage, so our interest was piqued at Joe Biden's recent comments in support of same-sex marriage. On Meet the Press the vice president said:
"I am absolutely comfortable with the fact that men marrying men, women marrying women and heterosexual — men and women marrying — are entitled to the same exact rights, all the civil rights, all the civil liberties. And quite frankly, I don't see much of a distinction beyond that."
While Biden has made his stance on the issue clear, Barack Obama hasn't always been forthright in his support of gay marriage. And while he's been quoted as saying he's "evolving" in regards to gay marriage, looking at his track record we have to wonder toward which direction? And things have only gotten more complicated during this election season, when he's trying to appease liberals along with the swing voters. Not only do conservative and working-class groups oppose same-sex marriage, many of his African American supporters do, too. But what has Obama actually said on the issue? Here are some of his quotes on gay marriage:
1996: "I favor legalizing same-sex marriages, and would fight efforts to prohibit such marriages." — questionnaire
2004: "I am a fierce supporter of domestic-partnership and civil-union laws. I am not a supporter of gay marriage as it has been thrown about, primarily just as a strategic issue." — Windy City Times interview
2006: "I agree with most Americans, with Democrats and Republicans, with Vice President Cheney, with over 2,000 religious leaders of all different beliefs, that decisions about marriage, as they always have, should be left to the states." — Federal Marriage Amendment speech
2007: "I will appeal any proposal to amend the U.S. constitution to ban gays and lesbians from marrying. I know how important the issue of equal rights is to the LGBT community. I share your sense of urgency." — speech opposing Defense of Marriage Act
2008: "As the Democratic nominee for President, I am proud to join with and support the LGBT community in an effort to set our nation on a course that recognizes LGBT Americans with full equality under the law." — letter to the Alice B. Toklas LGBT Democratic Club
2008: "I believe marriage is between a man and a woman. I am not in favor of gay marriage." — MTV interview
2010: "I am a strong supporter of civil unions. I have been to this point unwilling to sign on to same-sex marriage primarily because of my understandings of the traditional definitions of marriage. . . . attitudes evolve, including mine. And I think that it is an issue that I wrestle with and think about . . . I think it's fair to say that it's something that I think a lot about." — interview with liberal bloggers
2010: "My feelings about this are constantly evolving. This is something that we're going to continue to debate, and I personally am going to continue to wrestle with going forward." — TV speech
If he's going to call himself a supporter of the LGBT community, do you think it's time for Obama to commit to the gay marriage cause?