Obamacare Birth Control Compromise
Religious Nonprofits Can Now Opt Out of Free Birth Control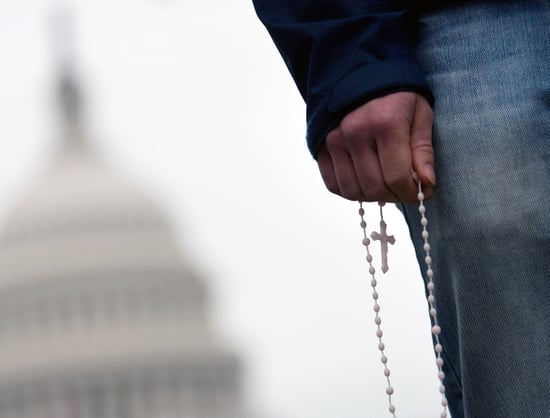 In an attempt to appease religious institutions, the Obama administration has again compromised on the free birth control mandate included in the Affordable Care Act (aka Obamacare) by allowing religious employers to opt out of contraception coverage. In the new policy announced today, faith-based nonprofits can offer coverage that doesn't include birth control, and instead use a third party to provide the contraceptives. Women with "religious employers" will now have a separate insurance policy for contraception paid for by the insurer. Also, what constitutes a religious employer has been broadened, and is no longer defined as an institution with religion in its purpose that employs and serves people with the same values. Houses of worship, such as churches or synagogues, were already exempt, but now religious nonprofits like Catholic universities are included.
The birth control coverage has been the major gripe religious organizations have had against Obamacare. They have said providing women with contraceptives goes against their beliefs, even though free birth control leads to a decrease in abortions, another hot-button issue in the religious community.
Planned Parenthood president Cecile Richards said her organization is still reviewing the nitty-gritty of the new rules, but seems optimistic. She said, "This policy makes it clear that your boss does not get to decide whether you can have birth control."
The compromise is meant to show respect to religious organizations while still providing contraception to their female employees. I don't really see how using a third party keeps these companies' hands clean from birth control — since their employees are still receiving free contraception — but I guess out of sight, out mind? Even with this new exemption, I find it doubtful that religious groups will jump on the Obamacare bandwagon. But at least it means women working for religious employers will have access to free birth control. What do you make of the new compromise; do you agree with the changes?