Olympian in Florida Could Face 30 Years in Jail For Not Telling Partner About HIV
Olympian Might Face 30 Years For Not Telling Partner About HIV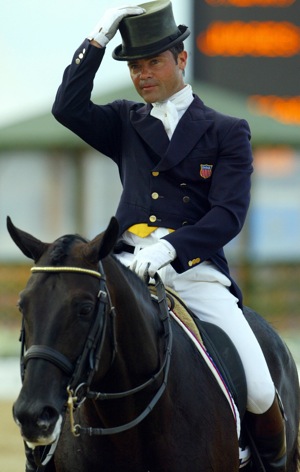 In his Florida hometown, equestrian Darren Chiacchia went from celebrated Olympic medalist to charged alleged-criminal. How did he get here?
When preparing for the Beijing Olympics in 2008, Darren fell off his horse and went to the hospital with serious injuries. There, he found out that not only did he have a severe brain injury, but also that he is HIV positive. Darren went on with his life as a relatively healthy gay man managing his HIV. He later dated a man he met online, but after this partner came across medical records indicating Darren's HIV-positive status, he went to the local sheriff's office and filed a complaint. In Florida, it is a crime for an HIV-positive person to have sex without informing a partner of the positive status. Now Darren faces a possible 30 years in prison.
Records suggest that Darren's partner has not contracted HIV. But Florida's law doesn't care, and about 32 other states have similar criminal laws dealing with exposure to HIV. For more on this, read more.
In places like Pennsylvania and Louisiana, someone with HIV can face 10 years for biting or spitting, even though you can't pass HIV that way. In 2008, an HIV-positive Texas man was convicted of assault with a deadly weapon (his saliva), and he's now serving 35 years in prison. Opponents of these laws say they discourage people from getting tested and make everyone with HIV a possible criminal. They would prefer that people who recklessly expose another person to something harmful like HIV be prosecuted under generic criminal laws when it's called for.
Considering HIV is no longer a guaranteed death sentence, do you think it should still be a crime for someone who knows they are HIV-positive to fail to inform a sexual partner? Does your opinion change if they use condoms? Or what if the other person never asks — should each person be responsible for his or her own health? And if we're going to criminalize passing diseases, should we go further? One woman, who sued her husband for giving her herpes, probably thinks so.