Online Dating Profile Cliches
What Dating Profile Cliches Do You Avoid?
Nobody wants to be a stereotype — or is that just the biggest stereotype of all? — but, we all kind of are. Yet dating profiles are no place to accept the inevitable. OkTrends, OkCupid's blog that quantifies people's online dating behavior, has gathered up people's interests by race and gender. Below is what white women like to admit liking when looking to meet a man on OkCupid.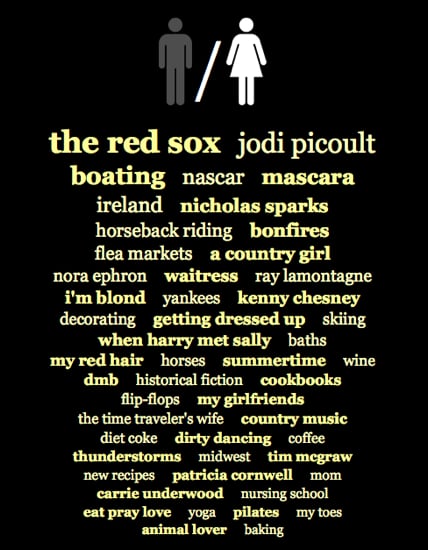 Seeing the same interests in profile after profile is about as attractive as an online wink, albeit less creepy. I'm certainly guilty of a few (Pilates, flea markets, historical fiction), but I try to mix expected interests with the weird, which I recognize is a type in itself. I certainly stay away from this year's biggest book and last year's little film that could. What do you avoid?