Oral Sex Mints — Love It or Leave It?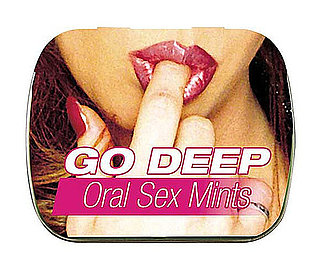 Improving oral sex technique has long been a popular topic — let's not forget Andy Dick's memorable appearance as knowledgeable sexpert, toting phallic shaped veggies in Old School. Still a little tutorial seems a far cry from mouth-numbing mints.
They may look just like ordinary mints, but Go Deep Oral Sex Mints offer a little something special in the way of "secret ingredients," with the addition of benzocaine, which according to the product's website "numbs your mouth . . . to let you go wild . . . and deeper." If you're doubting the product's effectiveness, reviewer declarations include, "made my job easier," and "works like a charm" — also, they're currently back-ordered. So, what do you think? They may not be the curiously strong mints you're used to, but would you give them a try?