Origin of French Kiss
"French Kiss" Finally Added to French Dictionary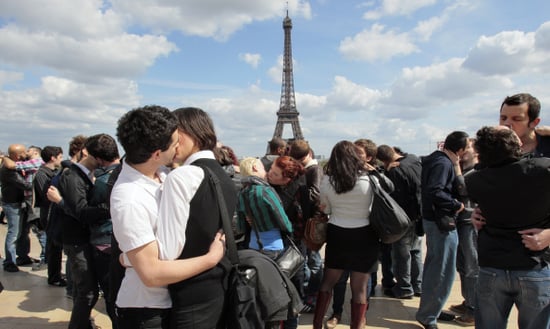 While we have lots of things to thank France for — crepes, lingerie, sexy Frenchmen — the French kiss is not one of them. And in fact, there was never even an official French word for "French kiss" until now! The one-word verb "galocher" (translation: to kiss with tongues) was added to the Petit Robert 2014 French dictionary, released today.
The French had previously used expressions that translated to "kiss with tongue" or "kissing at length in the mouth." Galocher has been a slang term derived from "la galoche," an ice-skating boot (Slippery? Gliding on ice? Figure eights? I get it), but is just now being officially recognized.
While "French kissing" began appearing in conversation during the 19th century, it took off in the early 20th century when it first appeared in the World War I book Private Lindner's Letters: Censored and Uncensored of 1918. "I have decided to become a linguist," he wrote. "Being able to read French fluently and speak it wretchedly, and to speak German connectively but not to read it at all, I am taking up Luxembourg, which is a wonderful blend of the two, a sort of liaison between tongues. (Not to be confused with French kissing.)"
In fact, if we're going to credit anyone, then it probably should be the British and American soldiers of World War I. Upon returning home from continental Europe, they showed their wives and girlfriends what they learned from the amorous country and called it a French kiss.