Parents Bring Babies to Bars
A Bar For Mommy Is a Bar For Baby?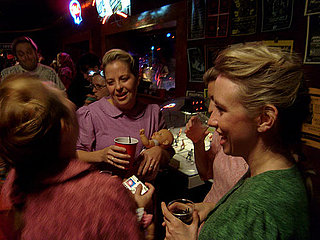 "Look at you. You have a baby . . . in a bar." I have to admit, Reese Witherspoon's reaction to her mommy friend toting baby in a bar in Sweet Home Alabama echoed my own sentiments on the matter. Though I've never actually seen a tot at the bar, I think I'd just be confused. After all, bar talk and bar behavior isn't usually child-friendly, so why bring the little one along?
That seems to be the attitude of most child-less singles and couples in Brooklyn in the midst of a heated debate with young parents in the neighborhood. For some without babies of their own, compromising the social space for moms and dads is almost intolerable: "I will get up on the subway for kids. I will be tolerant of them kicking the back of my seat while seeing a G-rated movie. But let me have my bars." Even on a practical level strollers take up a lot of space, and if you've ever been in a crowded bar, then you know finding a place to stand can be hard enough without a Bugaboo rocking against your knees. Still, I have to confess after a little more deep thought, and some time thinking of my own future — and possibly becoming a mother, I started to feel for young parents. To hear why keep reading.
For sensible moms and dads, like LilSugar, it seems the point of heading out to a bar is actually pretty reasonable, if not, totally understandable. As a young parent, it can be isolating to sit at home with baby, and the bar offers a social alternative. It's not as if parents are here to compete with the young crowd — they're not bar-hopping, raging, and certainly not hoping to be out till all hours of the night. In fact, after a quick drink parents might be gone by 8 p.m., leaving the scene before you and your friends even arrive. And hey, if mom and the little one are still hanging around after eight, maybe that's when bar owners can ask them to pack it in. I understand the annoyance of having a crying baby at a just-adults-kind-of-place, but I'm also feeling for a mom who needs to get out a little.
Where do you stand on moms and their babes at the bar?
Source: Flickr user Thirteen Of Clubs