Pickup Line Business Cards
Pickup Line Business Cards: Which Line's the Worst?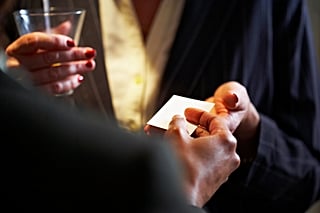 Sites like Cheekd.com have ushered in the next generation of online dating,

Before a person attempts this flirting technique, he or she must follow an eight-step process, including: paying for a "new member deck," activating the cards so they actually work, and encountering "a situation where you want to introduce yourself to someone but need an icebreaker." While it's hard to imagine someone going to the effort to get these cards, it's practically impossible to think the gimmick would get you a date.

It's a hybrid dating tool — half offline and half online — but the whole online part is completely unnecessary. Simply writing "call me" on a regular business card and handing it to a person does the trick, without the creepiness. "Hello" always works, too. But not for everyone, I guess. Check out a sampling of pickup lines you can have printed on cards below, and tell me which one's the worst.