Pictures From the Royal Academy's Annual Summer Exhibition
Will You Check Out Museums This Summer?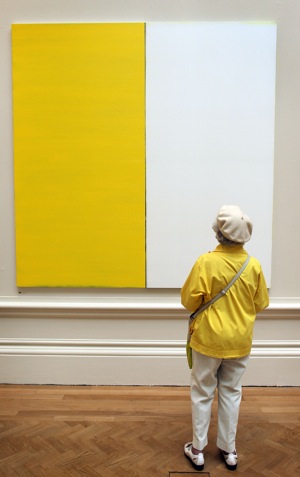 When I first looked at this canvas from The Royal Academy's Annual Summer Exhibition, I couldn't help but think: how long did it take the artist to create it? A couple of hours? Yet there's something very calming and delightful about its simplicity, and I'm sure much thought went into it. In fact, I would love to hang it on my wall.
The piece, ironically titled "Untitled No 39," is part of the world's largest open submission exhibition. This year The Royal Academy received 11,000 submissions from up-and-coming artists, and almost all the featured works are on sale. So if you'd like, you can also have the giant guerilla made out of coat hangers in your living room. If I had a reason to go to London this Summer, I would most definitely stop in. Have you added checking out museums, either at home or on the road, to your Summer to-do list?