Pictures of Iker Casillas's Girlfriend Sara Carbonero at World Cup
WAGs Keeping World Cup Players Out of Whack?
Yesterday I was chatting with PartySugar after Switzerland's big upset over World Cup favorite Spain. She said her Spanish friend already knew who to blame for the loss: goal keeper Iker Casillas's new girlfriend. So I looked into it and found out that sportscaster Sara Carbonero, who is romantically linked to Iker, is taking heat in Spain. Sara reported on the game right behind Iker's goal while he was warming up and interviewed him after the game. When asked if this could destabilize the team she said, "I think it is nonsense." But some fans disagree.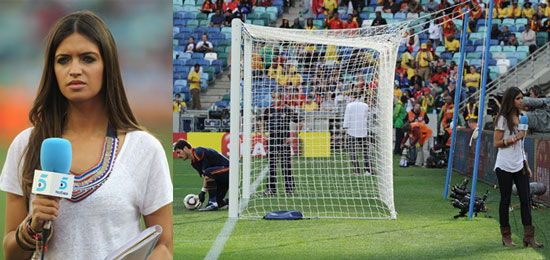 Sara isn't the only beautiful WAG to get blamed for distracting her guy. Last weekend, the English media had to find something to blame for the tie against the novice Yanks. They pointed to goal keeper Robert Green's devastating breakup with his girlfriend. But while Europeans worry that their soccer stars can't keep their professional and personal lives separate (the English coach has gone as far as limiting conjugal visits), the Americans aren't as worried. Team USA's coach says the WAGs are welcome.
To see video of Sara interviewing Iker so you can judge their chemistry for yourself, read more.